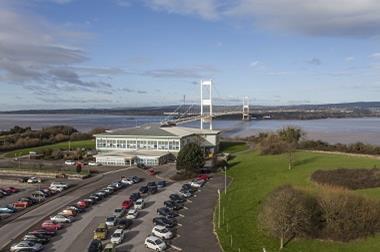 Broking group Brightside is to sell and lease back its headquarters in Aust, Bristol (pictured) to free up cash, Insurance Times has learned.
The property agent for the deal, Jones Lang LaSalle, said it has been instructed to seek offers of more than £7.68m for the 44,000 square foot property, which overlooks the Severn Bridge.
The prospectus states that Brightside will rent the headquarters from the new owner on a 10-year unbroken lease.
The initial rent will be £675,000 a year – approximately £15.31 per square foot.
A spokesman for Brightside said that the deal will release the value tied up in the property, which Brightside owns outright with no mortgage.
The spokesman said: "We are realising that cash to take advantage of a valuable asset. We are not relocating. There is roughly £6m tied up in the property, which would be very valuable."
He added that there has been "plenty" of expressions of interest in buying the headquarters.
He said: "We look forward to taking account of the office's full value when this sale and lease back process is completed."
Freeing up the cash from the headquarters will be a welcome boost for Brightside, which is going through a rough patch. It lost its capacity deal with Markerstudy in May, and has put 50 jobs at risk as part of a restructuring. It emerged this morning that it has lost a deal to arrange commercial vehicle insurance for Co-op customers.