Brightside selects preferred supplier for glass claims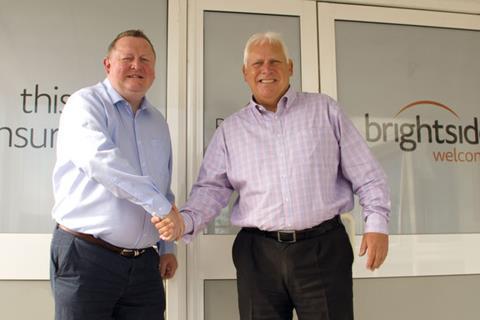 Broking group Brightside has extended its motor claims deal with National Windscreens for another three years.
Under the new deal, National Windscreens will become the preferred supplier for all glass claims across Brightside's entire motor book.
National will manage the whole process, including first notification of loss and third-party administration.
Brightside executive chairman Mark Cliff (pictured left) said: "Following changes to our business we took the opportunity to tender the contract, and were pleasantly reassured that National were the strongest candidate still."
He added that Brightside was attracted to the fact that National had a fleet of mobile technicians and a fitting centre option.
He said: "More vehicles have technology built into the glass, such as cameras which operate advance driver assistance systems. Factory conditions are needed to replace them, including flat floors and laser positioning, so we signed the contract extension with one eye very much on the future."
National Windscreens regional director Martyn Bennett (pictured right) said: "We are delighted to extend our agreement with Brightside for another three years.
"The agreement is mutually beneficial but is primarily founded on top quality customer service. We look forward to a long and fruitful relationship with Brightside."