The 70 year old had been suffering from lung cancer since 2010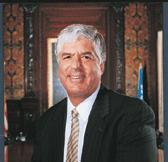 Former AIG and MetLife chief executive Robert Benmosche has died.
The 70 year old had been suffering from lung cancer since 2010, and passed away on 27 February at NYU Langone Medical Center.
AIG president and chief executive Peter Hancock said: "Like so many people who had the privilege to work with Bob, I am humbled and inspired by the example he set. Bob was piercingly honest and driven by a remarkable belief in the possibility of greatness that exists in every person.
"He poured his energy and focus into enabling AIG's people to live up to their potential, and that's why this company today is a sustainable enterprise that understands the importance of meeting and exceeding the expectations of all of our stakeholders."
Benmosche was president and chief executive of AIG from August 2009 until September 2014, and was tasked with turning round the insurer following its bailout from the US government in the wake of the financial crisis.
AIG board of directors chairman Robert Miller said: "Bob was one of the most inspirational and successful leaders in corporate America by any measure. We will never forget that under Bob's extraordinary leadership, the people of AIG repaid America in full plus a profit of nearly $23 billion.
"Everyone in the AIG family has been greatly blessed by Bob's vision, his loyalty, and his friendship during his five years with the company. Bob was a brilliant man who brought tremendous leadership, energy, passion, and tenacity to his job. At AIG, we will honour his legacy by continuing to focus on integrity and performance.
"He will be deeply missed."
Join the debate in our new LinkedIn specialist discussion forums