GRP's European Property Underwriting announces hires and promotions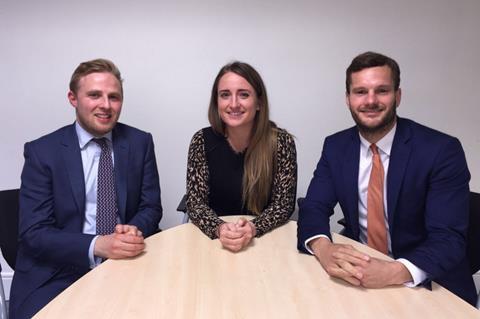 Underwriting agency European Property Underwriting Limited (EPUL) has hired underwriters from Aviva and Allianz.
The Global Risk Partners (GRP)-owned company has also expanded its underwriter ranks with an internal promotion.
James Tapping (pictured left) has joined EPUL as an underwriter focusing on all property-related risks. He was previously executive trading underwriter – property investors at Aviva.
Faye Milner (pictured centre) has joined EPUL as an underwriter responsible for new business development. She was previously a property owners' insurance underwriter at Allianz.
EPUL has also promoted assistant underwriter James Salmon (pictured right) to underwriter after five years with the company.
In addition the company has promoted Alex Bennett, who specialises in pan-European property programs, to senior underwriter from underwriter.
EPUL managing director Andrew Whittaker said: "We are working in a fast-changing market and these hires and promotions will enable us to better interact and connect with the new generation of real estate brokers."
"The energy, connections and expertise that these hires bring will facilitate our rapid growth plans, with our game-changing exclusive capacity from HDI, Swiss Re and Liberty, whilst boosting the high levels of service we provide to our broker panel."