Some policyholders have seen quotes rise by 80%, while others are finding it difficult to arrange cover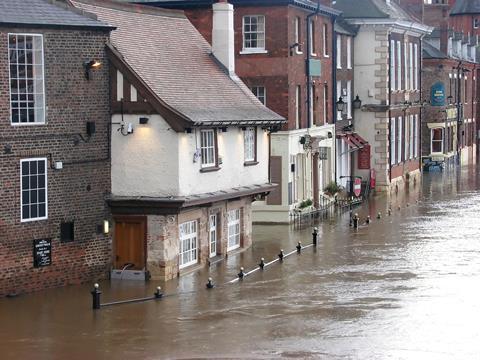 Homeowners hit by last winter's floods are "struggling to cope" with soaring premiums, the BBC reports.
The BBC spoke to policyholders who have seen quotes for cover rise by as much as 80% and excesses more than double following the wettest winter on record last year.
Philip Maye, who lives on the Somerset Levels, had just finished renovating his home when the floods hit and his property was under more than 3ft of water.
He has since been unable to find cover.
"We lost a lot and have had to replace it at our own cost," he said. "We live in trepidation every time it rains and everyone [in the area] has horror stories about insurance going up."
The National Flood Forum told the BBC it had seen a "huge increase" in the number of insurance related calls with a "big rise in the number of people struggling to get insurance at all".
Rod and Jo McDonagh from Muchelney were also flooded with the repair bill costing a total of £130,000.
Since then, the cost of their premium has risen from £5,000 to £9,000 despite millions of pounds being spent on flood defences
They have since negotiated that premium down to £7,200, but their excess has more than doubled to £30,000 from £14,000.
In August, Biba launched a guide for MPs to promote broker value, and included details of the association's Find a Broker service that helps consumers who are struggling to find appropriate cover for a particular risk.
Biba executive director Graeme Trudgill said: "Our members can often help in placing cover for those that fall outside of what is considered a 'standard risk'. We operate a Find a Broker service which triages calls from people looking for insurance cover, and then puts them in touch with a Biba member that can help.
"Our Find a Broker service, receives around 400,000 enquiries each year from customers looking for insurance, most of who have struggled to find insurance elsewhere and we hope our guide will encourage MPs to pass constituents onto appropriate brokers."