The two co-chief executives of Genasys Technologies tell Insurance Times how the business has grown as it celebrates its 25th anniversary this year
Insurance software company Genasys Technologies started as a conversation around a kitchen table back in 1997.
This October, however, the insurtech celebrated 25 years in business - £1.5bn of gross written premium is now managed through its software, the firm has amassed £12.3m in funding and has further plans to scale sustainably.
The modular, cloud-based insurance software business for insurers, MGAs and brokers now operates in 23 countries, including Africa, Latin America and the UK.
Speaking exclusively to Insurance Times, co-chief executive André Symes says: "We have always tried to use Genasys as a tool to make sure insurance is better for policyholders – that is the driving force for us. We could have been more ambitious with growth had we not held that principle so dear to our hearts."
André Symes is the son of Genasys Technologies' founder Steve Symes - Symes senior stepped down from his role of chairman in January 2022, however he is still involved in the business as a non-executive director.
Symes junior took over the helm as co-chief executive in July 2021 alongside Genasys Technologies' former chief technology officer Craig Olivier - both men are South African.
Olivier joined the insurtech in 1999 as a junior developer and has held a number of roles during his tenure, including technical director and sales director.
For Symes, the biggest challenge in the insurance industry at the moment is a "reluctance to change that is driven by executive structures". To mitigate this stance, Symes believes the answer is to rebuild market-wide confidence in technology projects and the rewards they can reap.
"There is always more to do. In our 25 years of existence, insurance hasn't fundamentally changed that much yet," Symes adds.
Talking partnerships
Following 1997's kitchen table brainstorming, Genasys Technologies started life as a software development house that same year. Its first customer was an Italian insurer, which was subsequently bought by a larger carrier just 18 months into the technology project.
At this point, the insurtech was left with the software it had already built for the client, but no customers. Therefore, it sought to change the software from a piece of code to a product, building technology that could configure insurance capabilities.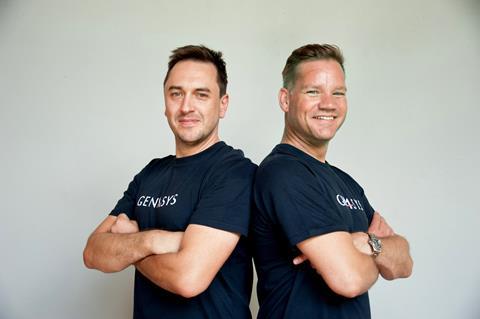 Olivier explains: "We thought 'let's go out and find new customers'. This allowed us to onboard three customers – a carrier, a broker and an MGA. That was the start of Genasys as a product business."
Subsequently securing an African customer then allowed the firm to deploy multicurrency and language capabilities too.
After 20 years operating in its homeland of South Africa, Genasys Technologies launched in the UK in 2017 - it onboarded nine customers within its first year in the UK market.
Symes says he was "blown away at the appetite" for technology firms in the UK.
Olivier adds: "For us, it is very much around a partnership where we can add value – we believe in the product.
"We have great technology – we want to partner with our customers, be honest and transparent. If we say we are going to do something, we will do it – that's the culture within the business."
Partnerships between insurance firms and technology providers is particularly important because insurance is typically viewed as a "grudge purchase" by customers - Symes thinks this means that getting a cheap deal doesn't always result in customers obtaining the best or highest value product for their needs.
Olivier adds: "Where there is a partnership, there is much [a] quicker success [rate].
"We were very aware that insurance [policies] sold today were designed years ago and are ripe for change and disruption – that's what we try to enable for our customers. We really want to create a more innovative culture within the business."
Alongside creating a product to support insurance firms, Olivier additionally notes that having the right staff and a great culture is also vital to ensure partnership success.