Symes' replacement sees 'boundless' opportunities for the business to grow
Steve Symes, chairman and founder of insurtech and software provider Genasys, has stepped down from his position and passed the baton onto David Williams, who will take over the helm as chairman.
Symes, who founded the company in 1997, will now take on a new role as a non-executive director on Genasys' board.
Following a 17-year career with UK-based private equity company 3i Group, Williams has fulfilled senior roles at several companies, including serving as chief executive at specialised welding company Serimax Holdings SAS and global pipe supplier Logstor.
More recently, he was chairman at scaleup investor Frog Capital, which recently took a significant stake in Genasys.
Williams will remain part of the Frog Capital team as an operating partner.
'Fresh pair of eyes'
Discussing the new hire, Genasys co-chief executive André Symes, said: "He not only understands our industry and its direction of travel, but more importantly, he is totally invested in our business model of building sustainable growth and helping insurance providers deliver real change that will benefit their customers.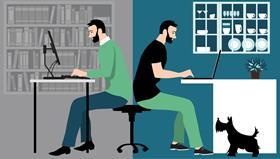 "David brings a fresh pair of eyes and unparalleled business experience to our board.
"We know he will constantly challenge us to ensure we're making the right decisions, but will also be there to support the implementation of those decisions.
"We can't think of a better person to keep us on track as we scale up our business."
Williams added: "I am honoured to take up the baton from Steve.
"He laid the foundations for what has now become an industry-leading, modular, state-of-the-art platform, ably led by [co-chief executives] André Symes and Craig Olivier.
"It's an incredibly exciting time to join the business as the insurance industry steps on the digital accelerator and André, Craig and I see boundless opportunity for Genasys to grow.
"I look forward to working with them to hone their plans and [create] a sustainable road map for the coming years."