Equipsme has partnered with Genasys to use its platform
Genasys Technologies is looking to partner with UK insurers, MGAs and brokers with a platform system that it says is "quick to market".
Moving to the UK almost a year ago, after 20 years in the South African market, chief operating officer Andre Symes told Insurance Times that "it's time to shake up the insurance platform market".
Symes, who founded the company in 1997, believes a "conflux of events" is happening between insurtech, niche insurance products and legacy systems. The firm has also identified Australia as a potential market.
Genasys is a software proposition that supports businesses by building a full front and back end system to meet their needs. It has operated in the South African insurance market for the past 20 years.
It launched its Ski policy administration system in 2006. Ski has an API layer which allows brokers, MGAs and insurers to leverage customer data. And it claims that the backend automation helps lower operational overheads.
Equipsme, a health insurer led by former AXA managing director Matthew Reed, is the most recent firm to take up using Ski.
Symes said no carrier has ownership of Genasys and its products which means "we are truly independent and fair" in what it offers and how clients are served.
Symes and Craig Olivier, sales director at Genasys Technologies, claim Genasys' "biggest differentiator" is as an agile platform that's "quick to market."
Olivier said: "It's end-to-end starting from policy admin search through to quote and bind, first notification of loss and normal renewal policy cycles as well as integrated claims."
Oliver joined the firm in 1999 as a developer writing code before progressing to operational and management roles.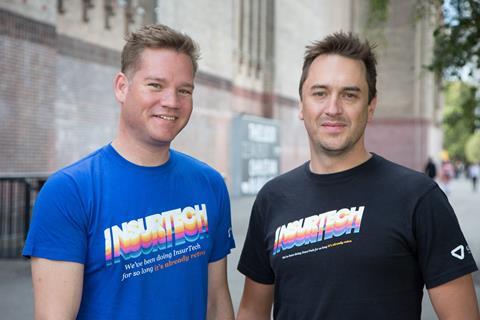 Insurance as "grudge purchase"
Olivier believes that insurance is often seen as a "grudge purchase" for many organisations.
He said: "You need the ability to provide tailored product offerings to your insureds. Often insurance is purchased and does not always provide the full cover requirements."
Don't use technology for the sake of it
But changing things for the sake of it does not always solve true business problems, Olivier added. He said its also about understanding what people need.
He added: "Even with insurtech we hear all the buzzwords like blockchain, AI and IoT and our real take on it is they are great technologies, but the core of it needs to be that you are solving an actual business problem."
Symes stressed: "Don't use technology for the sake of it, we have to actually try figuring out the problem."
Bridging the gap
Spotting a gap in the market, Symes and Craig Olivier, sales director at Genasys Technologies, used their skills and experience in technology to bring insurance and start-ups together.
Symes said: "We were having lots of conversations with insurtechs and they were spending time talking to the various accelerator programmes, but were more interested in raising capital or getting some kind of funding instead of finding out what problems they needed to solve."
He added: "With insurtech seeming so big at the moment, it is the biggest buzzword in the sector as it's attracting the most investment."
The pair say that the term insurtech has taken on a life of its own.
Symes said: "To us insurtech is simply using technology to improve the insurance industry all along the value chain.
"Sometimes I think we invest too much in the freight and don't spend enough time building the railroad.
"All I can say is that we are here, and we are going to keep proving that IT projects can be done on time and to budget, with our delivery focused team and enthusiasm to make stuff work, it can even be fun."
Subscribers read more
Cyber Insight 2018: The complexity and future of cyber within SMEs with Graham Whyatt