SSP's double act talk about their vision for the company and technology in the insurance market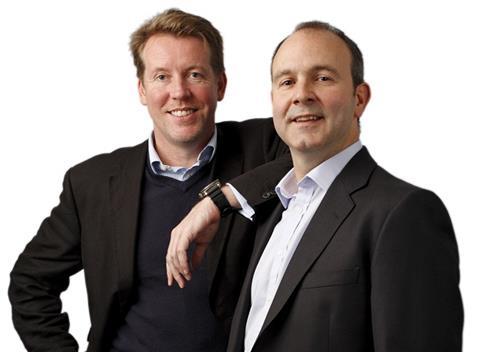 Stephen Lathrope recently joined SSP as managing director of its insurer division. But he started his working life in a very different field; as a car engineer he tested the petrol flaps on Rover 800s in the 1980s.
"It's what sold him to us," his chief executive Laurence Walker jokes when Insurance Times meets the two men for a joint interview.
The pair swap banter easily, but they're here to talk about their company, which makes and sells technology to brokers, insurers, managing general agencies and IFAs. SSP also owns Keychoice Distribution, a group of brokers who use SSP software, and Keychoice Underwriting, a managing general agent (MGA).
SSP was founded in 2002 when Walker teamed up with David Rasche to buy what was then a division of Computer Sciences Corporation.
Since then the company has grown to be a global firm, with UK revenues of around £55m in 2010 and 465 UK staff. SSP listed on AIM in 2006 and has made several acquisitions, including its rival Sirius in 2007.
Lathrope joined this year from Accenture. A boisterous character, he cracks a lot of jokes
He stood as a Labour parliamentary candidate for Beaconsfield in 2001, the constituency where Tony Blair cut his political teeth in the early 1980s.
He still has a copy of Blair's CV somewhere in his loft, but Lathrope has no immediate plans to return to politics. "Maybe in 20 years," he says.
Getting back on the acquisition trail
Walker is a slightly more restrained character, who answers questions thoughtfully but forcefully.
Walker wants SSP to get back on the acquisition trail after several years of post-recession inactivity.
But a big stumbling block stands in the way of future acquisitions: the Office of Fair Trading. Simply put, because 40% of UK brokers already use SSP software, acquiring another broker software company would run up against the OFT.
As a result, he says the company would look for "something more strategic around product, or something that related to our insurance company proposition".
But Walker acknowledges that many people lack a good grasp of what SSP does. "The market is segmented in its view of us," Walker says diplomatically.
SSP's recent restructure resulted in a clearer split between its technology provision and Keychoice.
While Keychoice is owned by SSP and all its brokers use SSP software, Walker is adamant that it is a separate unit that will focus on the brokers more than the technology.
"SSP is a tech business and Keychoice is a distribution business, and those two don't always sit very well together. Rebranding Keychoice, putting the broker at the centre of the proposition, is key."
On wider market issues, Walker turns to the e-trading debate in commercial lines.
He believes that some established insurers have deliberately stalled the development of ways to e-trade SME because of fears that their products will become commoditised.
The provision of next-generation technology to move things along - that's what SSP does."
"A lot of the larger carriers are holding back on the issue of commoditisation and comparative quotes in the micro SME space, because they think it is going to go the same way as motor," he says.
Walker leans forward and becomes more animated. Deliberately holding back this process is short-sighted, and widespread SME e-trading is coming, he insists.
In part, he thinks this is because the established insurers are missing a trick, but also because other players will smell an opportunity and move in to beat them to it. Younger insurers, MGAs and wholesale brokers will take the initiative, he says.
"The average micro SME policy is £300. Well, £300 is cheaper than motor. So commoditise it, e-trade it, understand how it works in that channel and what consumers want. Let's get realistic about what SME looks like."
But the good news for brokers is that e-trading more complex commercial classes is not possible, at least not yet, Walker believes.
"We can automate some of the process, but I don't think we can make that kind of business – certainly within our
horizons – comparative and commoditised," he says, adding that brokers will remain relevant as long as consumers value a quality service.
Upgrading insurance technology
Another insurance technology trope is upgrading clunky insurer legacy IT. But how bad is the problem really?
Lathrope thinks legacy IT is not a huge problem in itself, but becomes so when it holds insurers back from innovating, for example launching new products quickly.
So what do insurers want from their technology now? A lot is dictated by the customer, Lathrope says. Customers want better service from their insurers to match the service they get in other aspects of their lives.
"Being able to open up your systems as a portal for people to access, at the same time as being able to work with customers on a full-cycle EDI [electronic data exchange] basis - that's important," Lathrope says. "It sounds basic, but it is beyond the grasp of many insurance companies today."
Technology can also give insurers a competitive advantage because it lets them understand risks and customer buying habits better, enabling them to beat their rivals.
But Walker knows that SSP needs to box clever to continue to succeed. He says the insurance industry at heart does see the need for innovative technology, and that SSP has to keep ahead of the demand.
"The provision of next-generation technology to move things along - that's what SSP does."