Claims company blamed for cajoling her into deception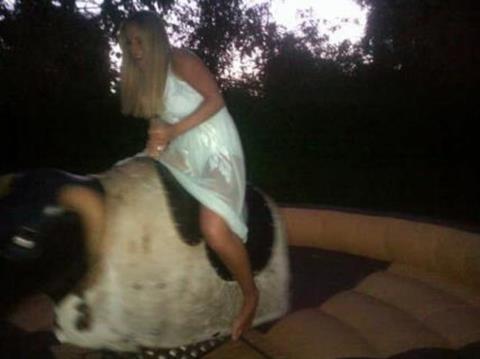 A Miss England contestant and semi-professional lady footballer was jailed for making up a personal injury claim.
She claimed she was cajoled into the deception by a pushy claims company.
Amy Laban, 25, and an accomplice, Laura Hazeldine, 24, were each sentenced to two months in prison at the High Court, after evidence that they had made false claims totalling £3,000 for whiplash against Esure following a traffic accident in April 2012.
The court was shown photos of Laban, who has modelled for Gap and played football for Birmingham City and Nottingham Forest ladies teams, taking part in fitness tests for the beauty pageant and participating in a skydive while she claimed to be suffering from whiplash. She tweeted a picture of herself on a bucking bronco machine a month after the accident (pictured).
Horwich Farrelly, acting for Esure, successfully applied for the High Court to dismiss the claims after Laban failed to attend a number of medical appointments to verify her injuries.
Contempt proceedings were then brought against both claimants, on the basis of lying about the vehicle's occupants at the time of the collision and falsifying the details of their injuries.
In June, both defendants admitted to the deception and pleaded guilty to contempt of court. Laban confessed that a week after the accident she had received numerous harrassing calls from various claims companies and that she had been persuaded to submit a claim by one particularly pushy firm. She said the caller also encouraged her to get Hazeldine involved.
David Pitt, chief operating officer of Esure, said the conviction "adds weight to the insurance industry's fight against fraudulent claims".
"This is a victory for honest policyholders as we continue to protect them from increased premiums by ensuring fraudsters face justice," he said.