Brokerbility executive chairman plans to work with the firm on its mission to change 'the face of commercial insurance distribution'
EXCLUSIVE: Chroma Ventures-backed data and distribution platform business Broker Insights has appointed Brokerbility executive chairman Ashwin Mistry as a non-executive advisor to its board.
Mistry's appointment strives to support Broker Insights' broader "growth ambitions", which includes plans to further develop its commercial insurance distribution platform, as well as scale the overall business.
Speaking on the appointment, Broker Insights chief executive Fraser Edmond said: "Having known Ashwin for many years, we are delighted to welcome him to the business.
"Ashwin brings a deep understanding of broking, the industry as a whole and has fantastic connectivity and influence within the market.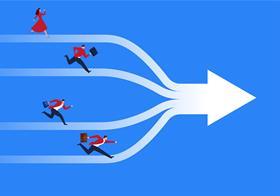 "These skills and experience will help drive both our growth ambitions and also the future development of our platform proposition and community of brokers and insurers."
Changing the face of commercial insurance
Broker Insights, which began trading in 2018, operates a data and distribution platform for the commercial insurance market.
The platform aims to help brokers and insurers to connect efficiently and distribute commercial products to end customers, using automation, collaboration tools and real-time data.
Broker Insights currently works with more than 160 brokers that hold over £1bn of business policies across the UK.
The company plans to tap into Mistry's 30 years of industry experience to facilitate further business growth.
Mistry was previously the owner and director of BHIB Insurance Brokers, before selling the company to The Clear Group in 2020. He is currently the executive chairman of broker network Brokerbility.
Mistry additionally served as the Chartered Insurance Institute's president between 2014 and 2015 and was awarded an Order of the British Empire (OBE) in the 2000 New Year Honours list.
Mistry said: "I am delighted to be joining Broker Insights at this exciting stage of [its] evolution.
"This company is changing the face of commercial insurance distribution and broking with its innovative data driven platform.
"I'm looking forward to working with Fraser and the team to advance their vision for the benefit of the market and their business partners."