Markel UK's director of sales and marketing emphasises why insurers need to get proactive as they look to support their clients at a time of operational uncertainty
BrokerFest 2021: Insurers and brokers serving the SME market need to "stop being driven by price only" as this just creates "long-term pain" for end clients, according to Nic Brown, director of sales and marketing at Markel UK.
Brown was speaking ahead of Insurance Times' one-day conference BrokerFest, which will take place on Monday 11 October 2021 at etc.venues County Hall, London.
He will be participating in a panel discussion titled 'Rethinking the hard-hit SME landscape' alongside Nick Houghton, group chief executive of JMG Group.
Brown believes that underwriters working in the SME insurance market need to be innovative and flexible in their approach.
He told Insurance Times: "The market needs to stop being driven by price only which creates short-term value and long-term pain. If we get closer to customer needs, then price is just one of many levers a broker can use.
"Insurers also need to stay vigilant and continually look to provide products and solutions for brokers that support the needs of their SME customers.
"This, in turn, will help to boost brokers' value in the eyes of their clients, which can only be positive for the broker, their clients and insurers."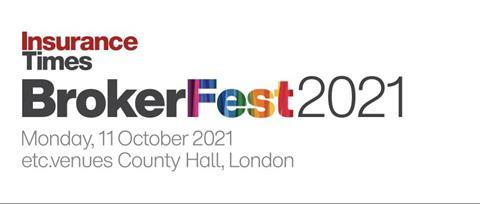 Brown said this is an issue Markel UK understands deeply – the company strives to remain relevant to clients by continually reviewing its products and value-added services.
"We have increased our focus on providing specialist products delivered and serviced by experts in their field and invested in across the board training and development of our people so we remain structured to best meet the needs of brokers and policyholders," he explained.
Broker growth opportunities
While the current, post-pandemic market conditions are challenging for SMEs, Brown believes sectors such as care and technology provide significant growth opportunities for brokers.
The use of technology and a shift to more remote working, for instance, has encouraged the formation of firms heavily focused on technology – these businesses require specialist insurance.
"Our analysis of the sector revealed that 69% of tech businesses do not have the appropriate level of cover in place, based on their unique requirements," he explained.
"As such, we believe technology represents a huge opportunity for brokers able to provide a specialist solution to current and prospective clients."
Brown added that firms, particularly SMEs, are in need of additional support – such as can be provided by brokers – because business growth creates a more complex set of risks.
He said: "Brokers have a fantastic opportunity to broaden discussions with clients that extend into areas of business risk beyond insurance.
"It's important not to forget that customers go through a journey and insurers and brokers need to account for that.
"They require flexibility and additional support as their risks, insurance and risk management needs change.
"If we can be responsive to our clients and develop products that reflect the current risks SMEs face, then not only will we be able to offer the support they require, but we can also build long-term relationships as our customers recognise we understand their needs and the challenges they face."
Brown highlighted that he is "looking forward to BrokerFest" in order to "highlight what [the market] should be doing in the future".