Convex's latest funding round brings its total raised since launch to $2.7bn
Stephen Catlin's insurance startup Convex has raised an additional $1bn (£750m) in equity capital, it announced.
This adds to the existing $1.7bn facility the insurer raised last year, and will help it "take full advantage of the hardening market", Catlin said.
Convex - the biggest insurance startup of all time - has now raised a total of $2.7bn since its launch via the Convex management team, Onex Partners V, Onex Corporation's private equity fund and a consortium of co-investors.
"Onex and our existing investor base has provided us with tremendous support in building the business and we welcome our new investor partners," Catlin added.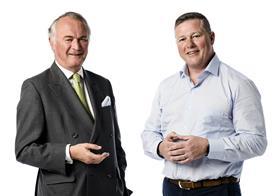 Co-founder and fellow insurance veteran Paul Brand said in 18 months, Convex "has become a 300 people strong insurer and reinsurer with a significant presence in Bermuda and London.
"We launched Convex with a singular vision, to create a world class company for the 2020s, which was legacy free, technologically proficient and well-endowed with capital to provide a safe haven for our customers. We are well on the way to achieving that vision," Brand said.
Speaking to Insurance Times last year, Catlin explained his thinking behind the launch of the startup.
"When I stepped down from XL Catlin, I had no idea what I wanted to do.
"But as time progressed, a number of things came together. One, a lot of brokers were saying to us 'why don't you two get back in the market, we could do with you two being around', so we knew we had support from providers.
"And two, a number of bank advisers said to us 'we believe you two can raise money in a way that most other people can't' and that we should think about it."
Last month Catlin said the insurance industry has been caught 'on the hop' with the Covid-19 pandemic's losses.
"It is a systemic risk that effects the entire world. The cost of the pandemic is way above the cost of the worldwide property and casualty base," he said.