Anthony Beilin, Collective Benefits' co-founder and chief executive, sees the investment as a 'major vote of confidence'
London-based startup Collective Benefits has raised £6m in funding to further expand its reach across Europe.
As a result of the investment, the business plans to double the size of its team, develop new insurance products and services for independent workers and the on-demand companies they work with, as well as address the growing demand for insurance and benefits in the platform economy.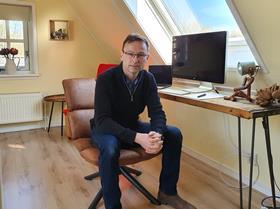 The investment round was led by Silicon Valley venture fund NFX, with participation from existing investors Stride VC, Delin Ventures, Insurtech Gateway and executives from Uber, Deliveroo and Urban.
This funding round will also see NFX general partner Pete Flint - who was part of the founding team behind Lastminute.com and Trulia - join Collective Benefits' board in an advisory role.
Anthony Beilin, chief executive and co-founder of Collective Benefits, said: "We see NFX's investment in Collective as a major vote of confidence in our ability to solve the protection gap problem for tens of millions of independent workers across the UK and Europe.
"With NFX's focus on network effect businesses, its technical capabilities in insurance and its well-deserved reputation as a leading early stage VC, we felt that NFX was an ideal partner to help Collective on the next stage of [its] growth journey.
"We look forward to working closely with Pete Flint - who we welcome onto our board with his extensive scaling and investment experience - and the wider NFX team, as we support the individuals that until now have been underserved, as well as the companies that are propelling our economy forward."
This follows ex-Uber boss Russell Corbould-Warren joining Collective Benefits earlier this year.
Win-win
Flint said he was thrilled to have brought Collective Benefits into NFX's portfolio.
He continued: "We like to partner with startups that will define their category. Collective is a fantastic fit in that regard. [It is] a market leader that's solving an as yet unsolved problem - the missing safety net for independent workers - in a way that creates a win-win outcome for both independent workers themselves and the platform companies they work with.
"At NFX, we are fortunate to partner with a number of world-class companies in the on-demand economy. We firmly believe that Collective has an opportunity to transform both the insurance and the on-demand economy with a blend of groundbreaking tech and razor sharp insurance capabilities."
The investment from NFX comes a year after Collective Benefits raised a £3.3m seed round, bringing the total raised since it was founded to just under £10m.
This latest fundraise will allow the company to work with new capacity providers and extend the lines of business written in the MGA, helping it to innovate further in protecting independent workers' physical, mental and financial wellbeing.
The startup, which provides insurance and benefits to more than 200,000 independent workers across 20 countries, recently estimated - using data from the Office for National Statistics - that the UK alone has an independent workforce of 6.6 million people, with a further 21 million across the European Union.
Collective Benefits revealed in a recent survey of more than 10,000 drivers, riders and couriers that nearly a third of independent workers have no savings at all, while a further 58% have just £1,500 compared with national average of £6,767.
This is particularly concerning given that only 4% of independent workers have protections like sick pay and injury pay. This problem is something the firm is already seeking to address, working directly with on-demand platforms like TaskRabbit, Stuart and Wolt, among others.
Collective Benefits is a registered broker in the UK and the European Union. It uses its Lloyd's coverholder status to create insurance experiences across sectors as varied as professional chefs, massage therapists, mobility and last mile delivery.
On the back of this new funding, the business plans to grow its member base to provide protections to 10 times more independent workers in the next year.