The London-based insurtech has secured funding to back its bid to 'close the protection gap'
Insurtech startup FloodFlash has secured £1.9m in seed funding to back its nationwide product launch in a bid to 'close the protection gap.'
FloodFlash wants to expand its business and product across the UK and nationwide in October.
It aims to solve the problem of 'uninsured losses' with a 'new way' of insuring homes and small businesses against flood risk using high resolution pricing algorithms and a self-powered internet-based water sensor which allows immediate payment to the policy holder.
The announcement followed a live pilot that started last November using a select group of SMEs across the UK including areas such as Carlisle.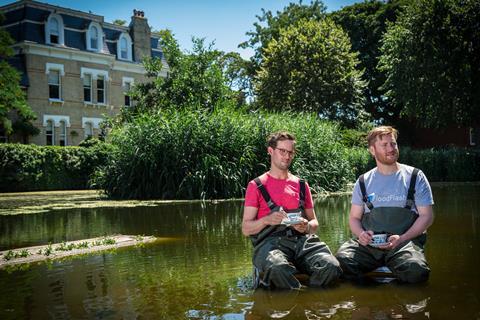 Its joint co-founder, Ian Bartholomew, said this 'instant settlement' concept could resolve what he believes to be the largest 'market failure' in insurance.
Adam Rimmer, co-founder at FloodFlash explained the firms vision to make the 'world more resilient' by targeting those at a high risk of flooding whilst 'closing the protection gap'.
He added: "In the more immediate aftermath of a catastrophic flood, people care less about the dollar-for-dollar reimbursement for damages and more about whether their business will survive at all.
"Every year tens of thousands of business owners lose their livelihoods because they have been unable to take out an affordable policy that protects their business."
Funding
The FCA-regulated company obtained funding from venture capital firm, LocalGlobe; software investor-Pentech Ventures and InsurTech Gateway, the financial backing will also develop the proprietary underwriting platform and IoT water sensor.
Since mid-2017, it has been working with InsurTech Gateway, the incubator provided the initial £200,000, and it will see the startup through its early stage conception and
The 'event-based' FloodFlash policy pays a fixed sum directly to the policy holder when a breach against a pre-determined trigger flood level occurs, also known as parametric insurance.
The in-house water sensor detects if the pre-set flood level has been breached feeding this information back to the FloodFlash.
It is targeting small businesses and properties nationwide at a high flood risk using methods such as flood-mapping and foot prints.
It claims to be the first of its kind in its sector to apply a 'personalised competitive flood policy' that is tech-led and available to all.
Rimmer, told Insurance Times that by removing those 'key sources of uncertainty' for underwriting it could help those who really struggle to get affordable flood cover in the developed and developing market. Everest Re Group Limited, a global reinsurance and insurance organisation were the underwriters of the policies in the live pilot.
He said FlashFlood is keeping their options open in terms of partnering with existing insurers and brokers as well as distributing directly to customers.
Tara Reeves, partner at LocalGlobe warned of the effect of climate change contributing to more 'extreme weather events.'
She added: "Parametric insurance dramatically reduces underwriting and loss adjustment cost, and those savings can be passed on to the consumer."
Subscribers read more
Why is escape of water such a big deal now?