Ogden rate change added to company's poor results
Hastings Direct shares plummeted today by more than 8% as the insurer's adjusted operating profit dropped to £59.7m (£68.1m before the ODR), compared to £105.1m in the same period last year.
It reported a pre-Ogden loss ratio of 79.1%, up from 73.8% which increased due to claims inflation. Post-Ogden, this was 81.1%.
This meant that profit after tax for the financial year ending June 2019 was £38.2m, and down from £72.9m in H1 last year.
Hastings' board said it remains confident in the group's growth opportunities as well as continuing its progress on initiatives such as renewals, anti-fraud capabilities and digital proposition along with embedding its new claims service partners.
It reported a 3% rise in gross written premium (GWP) at £499.2m despite the recent Ogden Discount Rate (ODR) changes and claims inflation in its H1 results.
This was compared £485.6m in the same period last year, in July the insurer said it was expecting a £8.4m hit from Ogden.
Toby van der Meer, chief executive officer, said he was pleased by the "strong progress" it has made on its strategic initiatives whilst navigating current market conditions.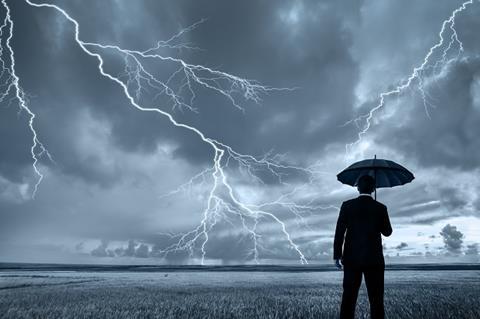 In February the insurer revealed GWP of £958.3m for the first quarter of the year, up 3% from £930.8m the previous year despite adverse weather.
Customer retention
Hastings saw growth in its live customer policies by 4% to 2.81m, up from 2.71m and its market share increased to 7.8%, up from 7.5%.
Retention rate improved by five percentage points from H1 last year following the roll out of a new renewal pricing model and operational initiatives.
Van der Meer added: "We remain focused on pricing discipline and have increased underlying average premiums by 3% in the six months to 30 June 2019.
"We have maintained our share of new business sales on the price comparison websites and customer numbers increased 4% to 2.81 million, primarily driven by our strong retention rates.
"Claims inflation has elevated slightly from 2018, to within the range of 6% to 7%, and we report a pre-Ogden loss ratio of 79.1%."
Digital initiatives
The insurer is continuing with its digital initiative.
As Van der Meer pointed out, he said this continuation in focus has resulted in improvements in its net promotor scores and 11% reduction in customer service phone calls per policy.
"Our strong capital position and continued positive cash generation means we are proposing an interim dividend of 4.5 pence per share. As always, my thanks go to the entire Hastings team for their hard work and dedication to each other and our customers," he added.
Subscribers read more
Figures revealed insurers guilty of costly Ogden miscalculation