According to claims data from Zurich Municipal, major school blazes can cost up to £20m
A coalition of 23 industry bodies representing hundreds of thousands of insurers, teachers, firefighters, surveyors, architects and engineers has accused the UK government of creating a fire safety "lottery" in schools.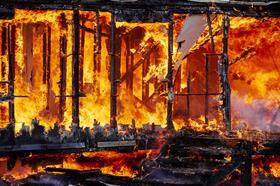 This "postcode lottery" has seen some local authorities in England - including Derbyshire County Council and Derby City Council - already mandating sprinklers in new build schools.
In a letter to the education secretary Gavin Williamson sent today (17 August 2021), the coalition warned that the government would leave "the majority of schools exposed to fires" if it progressed with plans to only see sprinklers installed in school buildings over 11 metres in height.
Tilden Watson, Zurich Municipal's head of education, said: "The collective voice and expertise of these industry bodies should not be ignored. The government's current proposals fall woefully short of the measures needed to tackle school blazes."
The open letter coincides with a Department for Education consultation, which began on 27 May 2021 and ends tomorrow (18 August).
This seeks feedback on changes to the Building Bulletin 100 (BB100) - this is non-statutory guidance on the design of school buildings, to ensure these institutions have early warning signs should a fire break out. It was last reviewed in 2019.
The BB100 advises how to minimise the spread of fire and how to ensure building structures are adequately resistant to fire. It also includes requirements for access and facilities for the Fire and Rescue Services.
According to data obtained by Zurich under the Freedom of Information Act, just 8% of new schools built since 2015 have been fitted with sprinklers.
Deeply concerning
The proposed rules require sprinklers to be installed in new special educational needs schools and boarding accommodation, as well as school buildings with floors higher than 11 metres.
Brought together by school insurer Zurich Municipal, the cross-industry coalition's letter demands that the government urgently rethink plans regarding the height of school buildings where it is compulsory for sprinklers to be installed (over 11 metres).
In the letter, the coalition states that it is "deeply concerning" that England's protection standards for schools fall below those of Scotland and Wales, where sprinklers are legally required. The letter said that "the installation of sprinklers in new build and major refurbished schools is mandatory in Scotland and required for central funding in Wales".
Therefore, the coalition believes it is "incomprehensible" that the Department for Education "would choose not to take this opportunity to strengthen safety guidance" by making sprinklers compulsory in all new build and majorly refurbished schools.
The letter said: "It should not take a school fire fatality for the government to address this disparity."
For example, between April 2015 and March 2020, firefighters were called to blazes at 1,467 primary schools and 834 secondary schools, according to claims data from Zurich Municipal.
Around 47 primary and secondary school buildings were completely gutted as a result of fires during this reporting period, while 230 others were seriously damaged.
Zurich Municipal's claims data further found that major school blazes can cost up to £20m.
Watson added: "It makes no economic sense to invest millions of pounds in an asset without taking steps to adequately protect it. We need to bring England in line with Wales and Scotland, where sprinklers are already compulsory in all new and majorly refurbished schools.
"Whilst the short-term costs of a fire, such as the loss of facilities [or] equipment and the need to rent temporary accommodation, can be calculated, the longer-term effects, such as disruption to the education of children already severely impacted as a result of the pandemic, are all much harder to quantify."
Zurich Municipal provides insurance and risk management solutions for the public and voluntary sectors.