The broker's chief financial officer says it has ambitious growth plans and is scaling fast
Lloyd's broker Superscript has chosen software provider AutoRek to help meet the broker's growth plans and scale its business.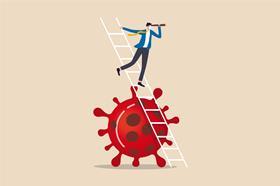 To achieve this, insurtech AutoRek will apply end-to-end automation to Superscript's business - this is a software testing method that involves testing an application's workflow from beginning to end in order to reduce risk.
AutoRek has previously served the insurance, banking and asset management sectors.
Superscript's chief financial officer Anil Sharma said: "Superscript has ambitious growth plans and we are scaling quickly.
"As we are managing an increasing amount of policy transactions, the implementation of AutoRek's technology will help increase efficiency for the finance team. Importantly, it can be incorporated seamlessly and will be a useful addition to our existing systems."
Superscript become a Lloyd's broker in October last year. Following this, in November 2020, it launched professional indemnity and public liability cover for esports.
Growth plans
AutoRek's solution, Bordereau, is used in the delegated authority insurance market to exchange information between insurance firms regarding risks, premiums and claims.
It provides a rules engine, real-time management information and reporting through a suite of dashboards.
The solution uses intelligent automation and machine learning to investigate breaks or queries proactively and suggest resolutions to users. It can ingest data from any source in any format and transform this data as required by business clients.
AutoRek aims to help insurance firms across the industry deliver a technology driven, automated operating model, supporting businesses to achieve their digital objectives.
Insurance lead at AutoRek Piers Williams said: "We are excited to work with the team at Superscript, particularly as they are strong players in the new wave of digitally driven insurance firms.
"We have built our Bordereau solution based on the market need and are looking forward to working with the team at Superscript to implement our market leading solution to deliver end-to-end automation."
Gordon McHarg, chief executive of AutoRek, added: "It is an exciting time for both Superscript and AutoRek in terms of growth plans and we look forward to collaborating on this project and building on our relationship."
Superscript, formerly called Digital Risks, was founded in 2015. As a digital-first insurance platform, it aims to shake up the traditional insurance distribution model by automating the entire process of buying and managing insurance for small businesses.