'The launch of this insurance facility will especially benefit the developing nations that buy much of Ukraine's grain,' says chief executive
Marsh McLennan has launched a new facility in collaboration with Ukrainian government, insurers and banks to provide shipowners and charterers with cover for Black Sea shipments.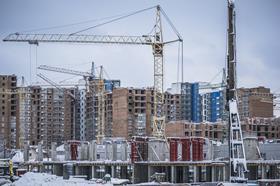 In a statement released yesterday (16 November 2023), the global professional services firm said the facility – called Unity – would provide insurance to support the global export of grain and other critical food supplies from ports.
Underwritten by Lloyd's of London, it will offer policyholders up to $50m (£40.3m) in hull as well as separate protection and indemnity war risk insurance.
The export-import bank of Ukraine – Ukreximbank – and state-owned Ukrainian bank Ukrgasbank will also provide standby letters of credit, which have both been confirmed by Deutsche Zentral-Genossenschaftsbank (DZ Bank).
"Marsh McLennan is committed to mobilising our unique expertise to support global food security and stability," Marsh McLennan president and chief executive John Doyle said.
"The launch of this insurance facility will especially benefit the developing nations that buy much of Ukraine's grain and help Ukraine's future recovery and reconstruction endeavours.
"Through these efforts, we are fulfilling our purpose as a company to give our communities and clients the confidence to thrive."
'Sign of confidence'
This came after Marsh McLennan announced earlier this year (22 June 2023) that it would work with the Ukrainian government and insurers to create a platform to provide data needed for the assessment of war risks.
As part of the new offering, the firm said it would extend the facility to clients of Lloyd's of London registered brokers.
The firm hopes the extension will "provide additional support to ongoing humanitarian efforts" and "alleviate continued pressure on supply chains and global food security".
Lloyd's chief executive John Neal said the facility "brings together the expertise of our market to provide an innovative solution that will ensure the safe transport of Ukrainian grain and agricultural products out of the Black Sea, [as well as] help alleviate global food insecurity."
"Lloyd's welcomes the establishment of this insurance facility," he added.
And Ukraine Prime Minister Denys Shmyhal said the partnership "is a sign of confidence in our economy and demonstrates that Ukraine is open for business".
"The launch of the Unity facility will enable Ukraine to provide vital food supplies to the world at the same time as supporting the Ukrainian economy and keeping the Black Sea open for international trade," he added.

Isobel, a reporter at Insurance Times for over 2.5 years, covers environmental, sustainability and governance (ESG) content.

She was selected for the Women in Journalism Senior Mentoring Scheme in 2019 and, in 2022, went on to win the Highly Commended Award in the Most Promising Newcomer category at the British Insurance Brokers' Association (BIBA) Journalist and Media Awards.

At BIBA's 2023 awards, she was shortlisted for the Best Investigative Journalism category.
View full Profile