The insurtech's headcount has also increased by more than by 200% in the past year - it expects to hire 400 people over the next 24 months
Marshmallow has become the latest insurtech unicorn after raising a further $85m (£62m) in series B funding.
This raise puts Marshmallow's valuation at more than $1.25bn (£909m), making it one of the first insurtech unicorns in the UK to be founded by individuals of Black heritage.
In business, a unicorn is a privately held startup company valued at over $1bn (£727m).
The insurtech's latest funding round was backed by Passion Capital, Investec and Scor.
The funding will enable Marshmallow to expand into other countries, as well as continue to hire the best talent and build other products - it currently operates within the motor insurance market.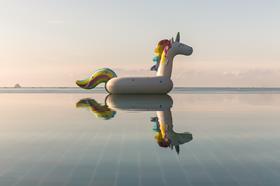 Oliver Kent-Braham, Marshmallow's co-founder and chief executive, said: "Customers are voting with their feet - and they clearly want a modern insurance offering.
"We've only just scratched the surface of disrupting a market worth $5trn globally and there's so much more we're planning to do in the coming years. We look forward to building more products that help people in their time of need."
Marshmallow's series A funding round closed in November 2020, securing the company $30m (£22m).
The company has raised a total of $120m (£87m) since it was founded.
Overarching mission
Established in 2017 by identical twins Oliver and Alexander Kent-Braham, alongside chief technology officer David Goaté, Marshmallow's initial purpose was to modernise the insurance industry, aiming to use data to provide more affordable insurance to customers who fall outside the typical "good risk" profile.
The business' use of technology, big data and artificial intelligence has enabled it to grow into a challenger brand that strives to be one of the largest players in the insurance industry.
It is one of just two UK insurtechs to have secured an insurance licence, allowing it complete flexibility from quote to claim.
Speaking about the funding raise, Eileen Burbidge, partner at Passion Capital, said: "The traction the team has achieved demonstrates the demand for a new kind of insurance provider, one that focuses more on consumer experience and uses the latest technology and data to give fair prices.
"We've been proud to support the team's ambitions since the start and now look forward to its next chapter in Europe as it continues its mission to change the industry for the better."
Marshmallow claims to have a unique approach, which includes fair pricing, quick and efficient customer service and no charges for changes made to a policy. It has seen growth of over 100% during the last six months, with the company having sold well over 100,000 policies.
The business' headcount has also increased by more than by 200% in the past year - with fresh funding, it expects to hire 400 more people over the next 24 months.