But, GWP increases as those that do purchase insurance opt to buy more
The penetration rate of small and medium-sized enterprises (SMEs) purchasing insurance policies, for example public liability and professional indemnity, has decreased by 1.3% in 2019, falling from 70.8% to 69.5%.
These figures form part of the 2019 UK SME Insurance Survey, compiled by data and analytics organisation GlobalData.
The research further revealed that the drop-off in insurance purchase was largest among SME businesses employing between 100 and 249 staff; this is because these organisations tend to have more expensive policies. Penetration within this category fell by 6.3% in 2019, to 87.9%.
Although fewer SMEs overall bought insurance this year, the businesses that did purchase policies opted to increase their cover. This led to gross written premium (GWP) increasing
Top-line figures
Ben Carey-Evans, insurance analyst at GlobalData, explained: "Insurers managed to offset this decline by increasing the penetration of individual products in 10 of 11 lines included in this survey – though commercial motor is a combination of four types of cover.
"Public liability was the only product to see a fall in penetration in 2019, as it dropped by 2.6%. This was countered by the growths in every other line.
"Notable examples are cyber and directors' and officers' insurance, which saw increases of 7.4% and 6.5% respectively, as well as personal accident and business travel with a rise of 4.4%."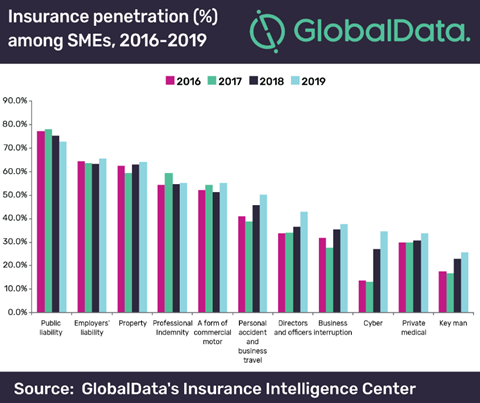 Market view
Carey-Evans added: "Insurers are succeeding in upselling and cross-selling products and business packages to customers but have struggled to attract new customers in 2019.
"It is not surprising that some businesses appear to have cut costs during the year amid a stalling economy and increased pressures in the form of rising business rates and minimum wages. Brexit was the leading concern for SMEs in our 2019 survey with 45.3% of respondents stating they were fairly or very concerned - illustrating that they are struggling with the current uncertainty.
"Overall, insurers will be happy with the state of the SME market in 2019, as they have seen a rise in GWP despite a stuttering economy.
"The declining overall penetration will be a concern but as this has only occurred over one year, it does not yet indicate the start of a negative trend. Furthermore, strong increases in penetration across some of the less popular lines will encourage SMEs to sell more comprehensive packages going forward."