Leak came from residential flat above, it was reported
Staff at Hastings Direct's Leicester office have demonstrated true dedication to their jobs.
The office was hit by its very own escape of water incident as a sewage pipe leaked yesterday, with effluent dripping onto computers, the Leicester Mercury reported.
But committed staff battled the filth and continued working, despite the foul smell.
The Leicester Mercury reported one employee as saying: "Pipe work has collapsed and caused sewage water to fall on to the computers.
"It stinks of sewage and we are still working here."
In a statement, Hastings confirmed the spillage. "There was a leak from the flats above our offices yesterday that affected some of our workstations.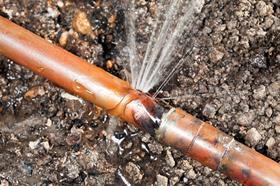 "We took immediate action to contain the area to ensure the safety of our colleagues and to notify the management company.
"We have been informed that the damaged pipe that caused the leak will be fixed tomorrow and would like to thank the management company and our colleagues for their understanding and cooperation."
Hastings declined to comment further on the incident when contacted by Insurance Times.
The company describes its Leicester office, on St George's Way, as "a bright, colourful, fun environment that's a great place to work" - it includes indoor beach huts and a games area.