Creator of the leak detection system is calling for industry-wide collaboration to tackle escape of water claims
The commercial availability of Waterlock, a connected leak detection system on Geo's platform, launched last Thursday at Biba's 2019 conference in Manchester.
Waterlock is designed to reduce the risk of EoW claims for insurers by allowing the mains to be manipulated via an app. It has the ability to shut off the water instantly through the app.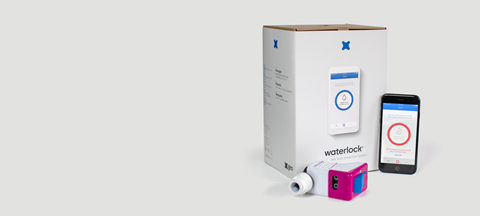 The system uses a sensor (pictured) which can detect standing water, excess humidity and freezing conditions, report back to the customer via text or email and allow for mitigating action. It can also supply data directly to insurers subject to end user permission.
The Waterlock device is a creation between smart home solutions firm, Geo and inet3 and was demonstrated to Lloyd's of London to brokers and insurers back in February.
Biba later adopted Magenta Insurance, a property underwriting agency part of the inet3 Group,
Magenta also works with AXA, Ageas, Canopius and Premium Credit.
The insurance industry pays out £2.5m everyday for escape of water claims according to the ABI, with the typical cost of household damage caused by burst pipes averaging £7,000.
Industry wide collaboration
Catherine Bell, chairman at Magenta Insurance, chairman of iNet3 and MGAA director and board member, told Insurance Times customers the problem of escape of water needs industry-wide collaboration.
Customers that have had more than one EoW claim may have difficulty accessing insurance due to the higher risk. These customers often have this peril removed from policies, leaving them uncovered, or subject to a high premium.
Bell said: "I began digging more and more into people's lives and homes, and because I was working with Flood Re and trying to tackle 384,000 houses that could not get cover. We have got a real problem, we need to prevent escape of water in the home, it has three times the amount of money wasted on it than flood – it's a bigger problem, every insurer has a problem with it."
Magenta Insurance looks after non-standard home insurance for customers who cannot get cover easily. The firm's underwriters look after these customers' needs through brokers.
Bell's drive for action also stems from her personal experience of having her five children's belongings destroyed by water. She said that she wants to keep the price low for the device to make it affordable for everyone.
Subscribers read more
Government strategy boosts industry efforts to improve flood resilience