The Insurance Times Five Star ratings for personal lines have just been unveiled, with three insurers being awarded the full five stars by brokers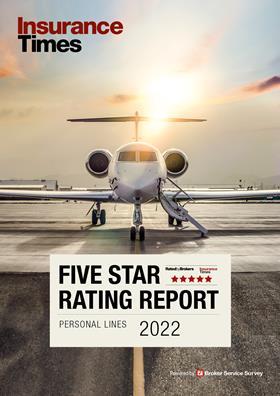 The Insurance Times Five Star Rating Report: Personal Lines 2022 results are now live, with Covéa Insurance, Chubb and Zurich all being awarded a five star rating by brokers.
The Insurance Times Five Star ratings for personal lines have launched today (9 February 2022), with some surprising changes in the results.
These ratings are the first at-a-glance guide exploring insurer experience, created for brokers by brokers.
The Five Star ratings aim to provide a practical tool for brokers to assess their insurer partners based on the experience of their peers, helping brokers to justify their recommendation to clients and offer a better service to their customers.
Registered users can access the top level Five Star results by insurer. Subscribers, meanwhile, will be able to compare specific service area results, including claims, underwriting, quality of cover and relationship handling.
This will enable subscribers to analyse how insurers have performed for different market broker segments, as well as review how insurers have performed over the past five years.
Subscribers can also now access the digital edition of the Five Star Rating Report: Personal Lines 2022.
Click here to visit the overall Five Star Rating Report: Personal Lines 2022 results summary page, or here to read the digital report.
Click below to view how your insurance partner performed:
The Five Star ratings also help insurers to benchmark their performance against their competitors, based on reviews by brokers specialising in personal lines insurance.
Brokers across the UK took part in the Insurance Times Broker Service Survey, rating their experience with insurer partners over the last 12 months across the following service areas:
The Insurance Times Five Star personal lines ratings site also showcases insights into the star ratings awarded to insurers by broker groups. Insurers work with a range of broker groups and it is important to discover how insurers are perceived by small independent brokers, large independent brokers, top 50 brokers and brokers that are part of a network.
Over the last five years, the personal lines sector has transformed how it delivers key services to brokers - this year's report results also delve into a five-year performance review, to see whether insurers continue to meet brokers' expectations.
The Insurance Times 2022 Personal Lines Data Insight Book is now available to order - this includes further analysis into broker feedback in areas such as product reviews, product upgrades, service reviews, new business, broker segmentation analysis and much more. To get your hands on this information, please email: fivestar@insurancetimes.co.uk or aisha.roberts@insurancetimes.co.uk.