Law firm Slater and Gordon warned of liquidity crunch following regulatory crackdown on whiplash claimants 
Australian law firm Slater and Gordon suffered a huge blow as its share price halved on George Osborne's plans to end cash payments for whiplash victims.
S&G's share price fell 48% from $1.89 to $0.98 on Thursday after the chancellor revealed the plans in his Autumn Statement.
Slater and Gordon paid £647m for Quindell's legal unit in April.
The cost of the deal and the potential loss of revenue following Osborne's whiplash plans have triggered concerns the firm has with too much debt and could face a cash flow crunch, leading to a capital raising.
"There is a lack of confidence in the company's guidance and a concern it is overleveraged and may need new capital," said Morningstar analyst Gareth James.
ShareProphets AIM-blogger Tom Winnifrith, a long-term critic of the deal who has tracked Quindell closely for several years, said Slater and Gordon was now the "short of the century" and predicted its share price would collapse even more dramatically.
However, Slater and Gordon tried to remain upbeat and said: "Whilst the government's announcement was unexpected, the company believes that the scale and diversity of the Slater Gordon Solutions business in the UK positions it well to deal with the potential impact of any future legislative change."
Osborne's plans were the latest blow to Slater and Gordon in what has been an unimaginably disastrous year for the company.
In just a year, the share price has been annihilated by a stream of bad news. The share price was at a high of $7.78 but is now just $0.99 (see below).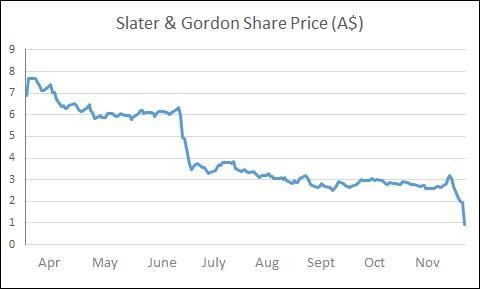 In June the law firm revealed it had misreported UK cash flows and was responding to queries from Australia's market regulator over its audit process.
Meanwhile, Quindell is under a criminal investigation from the Serious Fraud Office over past accounting practices.
The government's plans include removing the right to general damages for minor soft tissue injuries and removing legal costs by transferring personal injury claims of up to £5,000 to the small claims court.