Australian law firm's earnings seen hit so hard it will need cash injection to cover debts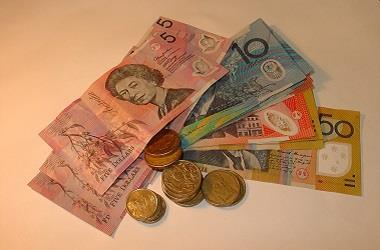 The government's planned crackdown on whiplash claims could hit Slater & Gordon's earnings so hard that it has to raise more equity, according to equities analysts.
The Australia-based law firm might have to raise about A$137m (£66m) in new equity from shareholders as its earnings slump and its debt ratios rise sharply, Deutsche Bank said.
Analysts at Macquarie agreed, saying that, "With over A$650m net debt, [Slater & Gordon's] balance sheet position does not afford much flexibility to withstand a significant earnings hit."
Slater & Gordon's share price collapsed this week after UK Chancellor of the Exchequer George Osborne said he will raise the small claims court limit to £5,000, which means that the claimant, rather than the insurer, will have to fund all minor injury claims below that figure.
In trading on the Australian Stock Exchange today, Slater & Gordon shares fell 27% to 69 cents after halving in value on Thursday, the first day's trading after Osborne's whiplash announcement.
So far this week some $700m has been wiped off Slater & Gordon's market value. That now stands at only A$252m, less than one-tenth of the company's A$2.7bn value in June after it completed it's A$1.3bn (£637m) acquisition of Quindell's Professional Services Division.
The market now values the entire company at only one-fifth of the price it paid for Quindell's PSD.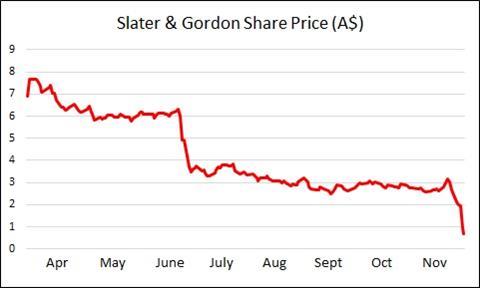 Deutsche Bank forecast Slater & Gordon's year to June 2017 earnings would fall 21%, which would lift its debt to earnings ratio to 3.4 times, which the bank said suggests the company would urgently need an injection of cash.
Motor accidents make up about 95% of Slater & Gordon Legal Services legal cases, excluding hearing loss, while about 70% of all cases involve claims of less than £5,000, according to Deutsche Bank.
CLSA analysts estimated that about 80% of the Slater & Gordon's cases fall below the £5,000 threshold.
The firm estimated that the Quindell acquisition has resulted in Slater & Gordon's exposure to fast-track road accident cases of about 65% of revenue and 50% of group earnings.