Larger commercial books of business will continue to be serviced separately by trained staff on an advised basis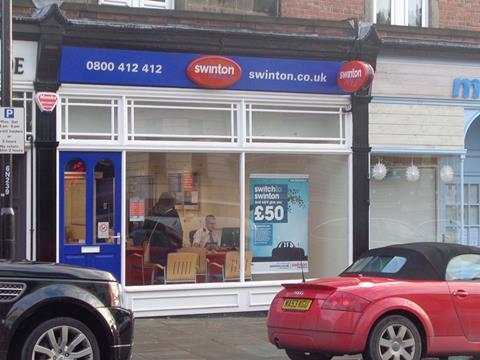 Swinton is planning to merge the smaller end of its commercial business into selected retail branches where personal lines products are sold from.
Operations director Kelly Ogley said the broker wanted to segment its customer base by developing a simpler non-advise process for customers with premiums that are typically under £2,000.
Customers with premiums of more than £2,000 will continue to be serviced by Swinton's commercial account executives on an advised basis.
Currently, commercial customers are able to visit regional commercial branches to speak to account handlers, while personal lines customers are currently able to visit retail branches on the high street.
Swinton also sells a small amount of micro SME products from its commercial branches.
After the rollout, selected retail branches will also have commercial account handlers as well as retail staff trained in commercial lines to service SMEs.
SME customers will be able to buy policies online, speak to a Swinton employee on the phone or go into one of the branches.
Ogley said: "We are going to talk to those customers, find out what their needs are, and where appropriate, recommend a product to them or offer them a product on a non-advised basis.
"We want to make sure we are talking to them and we know what service we can provide. We will talk to them about the products and they will decide whether they want it."
Back in January 2014 Swinton said it wanted to grow its commercial book to 15% of its total by 2017. At the time the commercial book accounted for about 10% of Swinton's £301m turnover.
Ogley did not disclose growth targets for the retail/commercial project, but she added that by training up retail staff to be able to sell small SME products, it would enable the broker to cross-sell to its personal lines customers.
The first branch to get a makeover will be Rotherham.
The pilot scheme in Rotherham is expected to be fully operational by the end of Q2, with the full roll out expected to complete in early 2016.
Ogley said Swinton chose Rotherham because there was a demand for tradesmen policies in that area.
Ogley added: "There are segments of business customers, who want to transact on the phone, but there are also some business customers who want to transact face to face.
"People are disregarding them as valued customers, whereas we are embracing them. We are giving them choice of how to deal with us."
Swinton has four separate national call centres – one for commercial and three for retail. These will remain the same after the rollout.