Delegates revealed how their profession has changed thanks to technological advances, and pondered whether traditional ways of underwriting still have a role to play. They also debated on the importance of the relationship between the broker and the insurer, as well as between insurer staff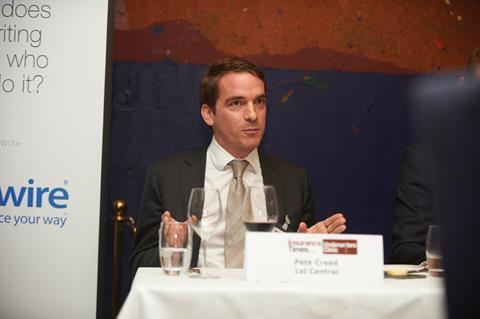 The agenda
1) What is the role of the modern commercial underwriter?
Insurers have benefited from advances in technology designed to help underwriters, such as automated policy processing. Also, many insurers have given the pen to brokers, complicating the relationship between them.
KEY POINTS
Technology has freed up more time for underwriters to spend on making site visits, analysing the more complicated risks, and building relationships.
Modern commercial underwriters are using technology and data analysis more and more. Chartis senior vice-president Paul Hill said that underwriters had taken on more actuarial tasks in the past few years.
An underwriter using data, using all the tools they have available, is less about assessing risk - though that is fundamental. You also need to know all your various margins and costs of dealing with a claim"

Pete Creed, 1st Central (pictured)
WE SAY …
Today's underwriters use more complicated technology than their forebears, but this has helped free up time previously spent on administration.
2) Is collaboration between broker and insurer and between insurer staff?
Brokers and underwriters have always worked together, but now they are collaborating in more varied and complicated ways. The way insurer staff work together has also changed, delegates believed.
KEY POINTS
Collaboration between broker and insurer has been increasing as technology has freed up time on both sides, according to Guidewire product marketing manager James McCully.
Insurer staff are also working together more on large risks, with underwriters in particular turning more to claims and risk engineering staff than before. This is due to more demanding clients, a greater focus on claims and global regulation.
Now underwriters have freed themselves from some of the burdensome work, they are spending more time building relationships"

James McCully, Guidewire
WE SAY …
Collaboration is more common and important, with technology freeing up time for co-operation, and providing data to use when working together.
3) How much of the traditional 'art' of underwriting is left?
Underwriting and risk modelling technology have been accused of de-skilling underwriters by taking roles away from humans. The counter-argument is that using and understanding technology is a skill in itself.
KEY POINTS
The amount of money being pumped into developing new underwriting technology has led to rapid progress in the area, according to Creed.
Part of the art in underwriting now is being able to use technology and models well to free up time for handling unique risks, according to attendees. Another 'art' is knowing when to trust software, and when to rely on instinct and personal experience.
Having the data is wonderful, but that is the key. What does it mean and how does it affect my pricing? The role of the underwriter is still there"

James McCully, Guidewire
WE SAY …
Underwriting software relies on historic data to make assumptions about the future. However, humans can spot when the models get it wrong.
4) What skills does a modern commercial underwriter need?
With technology becoming so integral to underwriters' day jobs, the skills they need have changed. The attendees discussed the issue and came up with several takes on the subject.
KEY POINTS
One skill an underwriter needs is to effectively manage portfolios that have been largely automated, but also to be able to spot and
handle oddities.
Modern commercial underwriters need greater skills with technology than in the past, but they also need to be adept at managing cost and spotting fraud.
Where a book of business can be run on a portfolio-management or cookie-cutter basis, the underwriter will be involved in non-standard, or when fraud is missed"

Paul Hill, Chartis
WE SAY …
Underwriters need to have traditional and modern technology skills. Flexibility is key since underwriting technology is developing fast.
Delegate feedback
Aviva senior underwriter Sue Chittock on automation:
"Sometimes, all an underwriter wants is a completed proposal form from a broker, which we don't get that often. But what an underwriter does want is time to assess, analyse and manage the risk. Whether that risk is one individual shop or an entire portfolio. This is where automation and processing is the friend of the underwriter.
By self-service, by processing information, that frees up time for the underwriter on the frontline from inputting the information to understanding the risk in front of them."

Direct Line head of motor brand partners pricing and underwriting Robert Crook on modelling:
"Models are generally very good and do create efficiency and, for 99% of risks, they work. But they fall down on two things. One is that once models are in place, it takes longer to change and adapt them to your current environment. The second one is the fraud aspect. The less someone talks to the individual, the more likely they are to commit fraud."
What we learnt
Guidewire product marketing manager James McCully
Q: What did you take from the event?
A: A key thing was the pervasiveness of underwriting in the insurance organisation. The collaboration between claims, risk management and underwriters inside the organisation, and the brokers outside, highlights the focus on underwriting performance in the market.
Q: What did you learn from the floor's responses?
A: An interesting point was made around the challenge to use the vast amount of data to which the underwriter now has access. The speaker summed it up well: "Producing a model to leverage the data is as much an art as it is a science." Very similar to how the role of an underwriter is perceived.
Q: What will underwriters of the future be like?
A: Future underwriters are depicted as a role that is elevating their level of precision in their risk analysis through the use of better data and automation, while raising their level of collaboration. Thus, underwriters of the future are becoming more strategic - managing their relationships and portfolio as much as individual risks.
For coverage of our events go to: www.insurancetimes.co.uk/events