Hannover Re says it expected higher rate increases and has reduced motor business as a result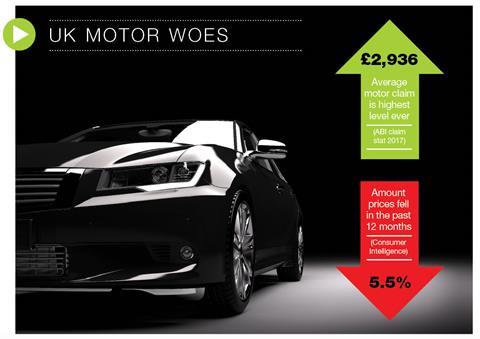 One of the world's leading reinsurers has cut exposure to UK motor after being left "disappointed" by pricing reaction after the Ogden reforms.
The UK has experienced a turbulent period around motor rates, with a hefty spike in prices and then a fall.
Prices have dropped 5.5% in the past 12 months, research firm Consumer Intelligence said at the end of June.
The rates volatility is a result of the government announcing changes last year in the discount rate – the Ogden rating tables – to more favourably benefit the claimants of serious injury payments from insurers.
The government then announced a review following complaints that the change – from -0.75% to +2.5% – was too onerous on hard-pressed UK motor insurers.
Amid all this, Hannover Re says it is not seeing high enough price increases coming through on the reinsurance side.
"Overall, we were disappointed with the motor excess of loss side. Our expectation for rate increases was higher than what was achieved," said Sven Althoff, property & casualty specialty lines worldwide board member.
"Overall, the exposure has been slightly reduced because we felt that despite the increases, we are not at a technically adequate level following the changes of the Ogden rate increases."
UK primary insurers are facing higher costs from reinsurers, and this was one of the reasons why broker JP Morgan downgraded the outlook for Hastings to 'neutral' from 'overweight' in July.
Ogden controversy
The fall in rates has sparked a debate in the market over whether insurers are cutting rates too quickly in the expectation of the Ogden change – even though nothing has been announced.
At Biba, Ageas UK chief executive Andy Watson said: "The motor market is anticipating legislation changes around whiplash reform and changes to the Ogden rate, but neither of those things have happened.
"They've been talked about and the legislation is going through its parliamentary process, but the changes have not yet taken place, so the market is getting a little ahead of itself. We'll see where it goes and it's something we will monitor for the rest of the year."