With car ownership in UK cities declining, vehicle sharing taking off and driverless cars set to change the face of personal transport, how are motor insurers responding?
The prospect of a future where the roads are dominated by fully self-driving vehicles that passengers may or may not own still seems a long way off. However, mobility trends such as ride-hailing, car sharing and peer-to-peer rental are taking off, while in major cities private car ownership is diminishing.
In the UK's conurbations it is clear the automotive sector is being disrupted, but how are motor insurers adapting and what is the role of the broker?
In January, car sharing network Zipcar rolled out its Flex scheme across London with 700 VW Polos in its fleet, covering an area of 235 km2. Unlike ride-hailing firms, car sharing services like Zipcar allow members to pick up a car and drive across London, dropping the vehicle off once the driver has reached his or her destination.
"We will need to see more accessible and affordable insurance solutions for our customers"

Chris Jarratt, Coversure
Perhaps unsurprisingly it is younger generations leading the way towards pay-per-use mobility. Some 50% of Generation Y/Z consumers like using a smartphone app for transport, according to Deloitte, while 63% said they would be willing to use a vehicle that could drive itself and that such vehicles would free up their time to focus on other activities.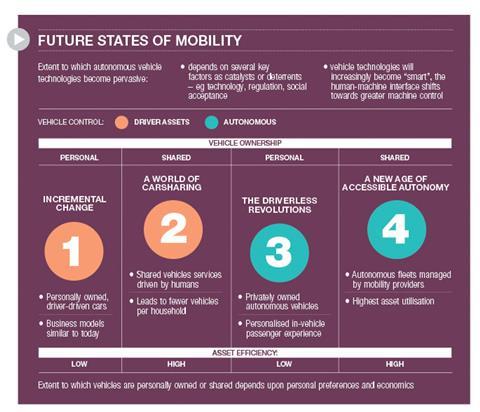 Such mobility-as-a-service (MaaS) schemes are growing in popularity as car ownership declines, with McKinsey predicting one in three new cars will be a shared vehicle by 2050. According to Transport for London, 54% of London households have at least one car, down from 57% in 2005/06.
Meanwhile, the number of 17 to 20-year-olds holding a driving license has dropped by almost 40% over the past two decades on a country-wide basis, as the cost of owning and insuring a vehicle have risen.
Motor manufacturers such as Toyota, VW and GM anticipate car sales will be affected by the growth of shared mobility and are investing in partnerships with ride-sharing brands such as Uber, Gett and Lyft. Meanwhile, tech giants such as Tesla, Google,
Apple, Baidu and Uber are seeking to disrupt and own the traditional vehicle value chain.
What does this mean for motor insurance?
Deloitte argues that insurers could be challenged to compensate for the inevitable falling premiums, as connected cars cut accidents by up to 90%. Yet while claims frequency is expected to fall with the arrival of autonomous vehicles on the roads, severity could increase given the expensive technology and the rising cost of repairs.
There is also the question of whose liability future road traffic accidents will be (see below), with commercial re/insurers set to benefit at the expense of their personal lines competitors, as fully-driverless vehicles (level 5 connectivity) come online and make the role of the driver completely redundant.
New ownership models
AXA has been one of the first to respond to the new models of vehicle ownership, offering bespoke products for carpooling firm BlaBlaCar, teaming with insurtech start-up By Miles to offer on-demand motor policies, and is among the motor carriers working on automated vehicle projects across the UK (alongside DLG, XL Catlin and RSA).
The partnership with BlaBlaCar reflects AXA's "ambition to become the preferred insurer of the platform economy", and create new solutions for new types of mobility, such as carpooling, according to the insurer's chief innovation officer Guillaume Borie.
But Chris Jarratt, head of product development at Coversure, isn't sure the sector is moving fast enough.
"MaaS, ride sharing and these types of services will naturally become more popular with the development of autonomous and electric cars. The insurance market will need to progress in a similar fashion to be able to provide the right cover for our customers."
"I believe we could see insurers working more closely with other industries in order to innovate in a collaborative manner and provide the best possible solution for the customer," he adds. "As we learn more about the current semi-autonomous cars and electric vehicles, we will need to see more accessible and affordable insurance solutions for our customers. One day this will be the norm, and this could be sooner than we think."
The Automated and Electric Vehicles Bill
In July the Automated and Electric Vehicles Bill received Royal Assent, putting into place the regulatory framework that will allow insurers to provide cover for automated vehicles (AVs) from 2021. The legislation is significant as it means that insurers will have the right to recover claims costs from manufacturers when accidents are caused by technology failure, rather than driver failure.
The bill adopts industry-wide proposals for a new framework that offers clarity when AVs start to appear on the roads in 2021. The first generation of driverless vehicles will still require a person to sit behind the wheel and ready to take control if needed.
Clyde & Co expects the bill to be tightened to limit the definition to fully autonomous vehicles that do not require driver input.
"If this does not occur, drivers may be prone to placing too much reliance on non-autonomous vehicles," notes the legal firm. "Resulting in increased crash frequencies."