Insurtech investment from incumbents and in the UK remains robust despite sluggish start to 2017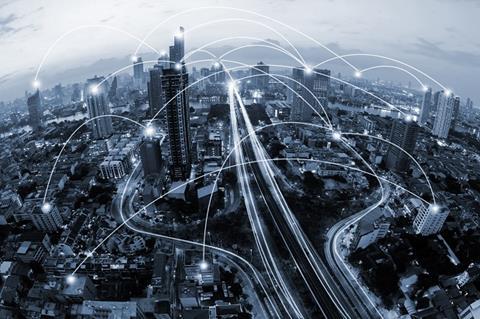 Global insurtech investment fell by almost two thirds in the first quarter of the year as startups moved closer to product launches, according to a report from Willis Towers Watson.
Total funding fell by 64% from $783m to $283m, and deal volume declined by 36% from 59 to 38. Early stage funding stood at $63m, the lowest Q1 mark since 2013.
The UK market however remained strong, while investments from incumbents was flat year on year.
The slowdown was due in part to a broader decline in funding for largely US-based health and life insurance players. Investment growth in P&C insurtechs has tapered off, but more gradually.
Initial reports said the global fall was linked to the market cycle and suggested maturity was a factor – a claim disputed by market commentators and another recent study from KPMG.
A number of recent deals also suggest that the sector remains white hot. Overall, total funding was the seventh highest ever.
Incumbent appetite
In the past five years, 51% of incumbents' insurtech investment was at the Seed or Series A stage; in Q1 2017, it had fallen to 20%, indicating their support may have shifted toward businesses that have achieved product market fit. The overall investment mix (including VCs) remains steady, with two thirds of deals being at the early stages.
The UK's share of incumbent deals rose from 6% to 8% over the same period, and from 8% to 13% overall, making it the second largest market, behind the US.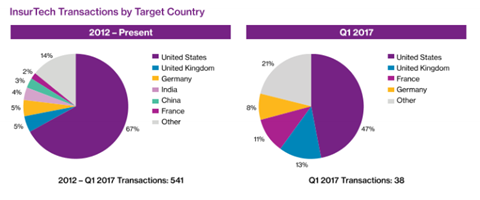 The incumbent deal number in Q1 was 25, up slightly year on year, and in line with the trended quarterly average in 2016 (26).

Small business is big business
The report said report 25% of total premiums for SMEs would be placed digitally by 2020.
"The $100bn small business insurance sector is one of the most promising for disruption," said Rafal Walksewicz, chief executive officer of Willis Towers Watson Securities, "as insurers attempt to navigate the complexity of automating underwriting processes to accommodate a broad range of business classes in a user friendly format and combat the inefficiency of processing small ticket premiums and claims."
Walksewicz also described small business insurance as the most active area in insurtech – a claim backed up by US giant Travelers' £400m acquisition of UK-based digital SME platform, Simply Business. A source said that this was more than twice the sum the business had expected to receive, and more than three times the price paid when it was acquired by Aquiline for £120m, less than a year before. The multiple of over 50 times earnings (EBITDA) paid by Travelers is one of the highest the industry has ever seen.
The definition of insurtech appears to have broadened rather than deepened in Q1'17.
SME-focused startups have also been attracting significant investment. Next insurance, which specialises in insurance for professionals, including personal trainers and photographers, via Facebook or chatbots, raised $29m in Series A funding last month, as revealed by Insurance Times. Corporate backers include Markel and Munich Re's venture arm, HSB. The reinsurer's other investments include Trov, Slice Labs, Simplesurance (which launched in the UK last week) and Bought by Many, underscoring a wider move of incumbents – in particular reinsurers – to invest directly in, as well as partner with insurtechs.
The report also noted an increasing focus on distribution, with 74% of transactions involving players focused on that space, up from 61% over the previous five years. Industry commentators have said that distribution is where insurance disruption will first occur.
The data for the report was compiled by CB Insights.
Rebound expected
Another recent report from KMPG said that VC-specific insurtech investment would rebound after a slow first quarter. "This lull is not expected to last, particularly as insurance companies around the world seem to have begun to feel the pressure to embrace insurtech innovation," the latest Pulse of Fintech report concluded.
"Over the remainder of 2017, insurtech investment should continue to grow across the insurance value chain," it said, referencing investments in 'enabler technologies' like artificial intelligence and the Internet of Things.
The report emphasized that insurtech remained an immature market compared to broader fintech, which created investment opportunities.
"The definition of insurtech appears to have broadened rather than deepened in Q1'17. This suggests more startups are getting involved in the insurtech ecosystem because of the opportunities inherent in the sector," added Murray Raisbeck, insurance partner for KPMG UK. The report concluded insurtech would experience strong global growth during the remainder of the year.
Over the first three months of 2017, European fintech startups secured $667M in funding from VCs – 60% of the total sum raised in 2016. CB Insights forecasts that funding this year will exceed 2016 by 57%.
The UK remains a strong capital magnet for startups across all sectors, with the country pulling in a record number of deals in Q1 this year. Total funding is over $15bn in the past year.