Ahead of speaking on the 'Insurtech Gold Rush' debate at Insurance2025, partner for Oxbow, Chris Sandilands speaks to Insurance Times about the impact, or lack thereof, that insurtechs are having on the industry
Do you think insurtechs are having the impact on the insurance industry many expected?
Yes and no. When insurtech emerged as a category in 2015 it was all about disrupting the personal lines customer experience.
Founders were saying things like "my insurance renewal is horrible, there must be a better way of doing this". But the reality is that many of these businesses failed to get any significant traction and several of them have fallen by the wayside.
That doesn't mean to say that there has been no impact; rather that we're still waiting for the winner that has a big impact on the market to emerge. Of course, we can point to a few companies that are making headway now and say "this might be a future winner" but the reality is that it's too early to tell. But that's true by definition – Amazon wasn't the big retail disruptor until it had proven that it was, so to speak.
Do you think there is still potential for them to make that impact?
Yes, I think insurtech still has a long way to go. I see no reason why one of the full stack insurtechs like Lemonade or ottonova, or some of the intermediaries like Inshur or Zego couldn't become a dominant player in its market. But that's nothing new – insurance has a rich history of startups, for example Direct Line in the UK. It's not like insurtech suddenly facilitates entry into a market that was previously closed.
But what I've talked about so far has been focused on what we call distribution insurtechs – companies that are trying to get their own insurance policyholders.
We also need to think about supplier insurtechs, which are tech companies selling to insurers.
In our insurtech impact 25 paper, we bucket these into three areas: distribution support, data & analytics, and operations. I think that Supplier insurtechs will also have a big impact, and again there are case studies from the past such as RMS, which has become a critical vendor for many companies.
And this point is really important. We have always said that we don't see insurtech as a special category, and we are allergic to people thinking that we are an insurtech consulting business. We are not: we are a consulting business that helps insurers and brokers understand and navigate the future, where appropriate with the help of insurtech.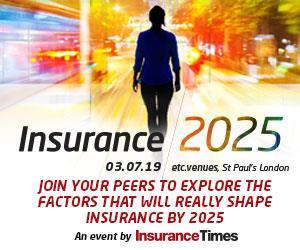 You have to understand the business opportunities and challenges presented by technology and data, both inside and outside the industry, and build your strategy and operating model so that you can make the most of the upside and protect against the downside. It's no different than back in the day when you realised you had a cat risk underwriting and aggregation problem and needed a solution to help you get on top of it.
Are there any examples of companies you think have shaken up the industry?
Well, I've already referred to a few. Direct Line shook up UK personal lines, the Bermuda Class of 2001 shook up cat underwriting. Lemonade has certainly shaken up the industry again more recently, but the marketing bluster still needs to be justified by the long term financial performance.
But the main point here is to think about what "shaking up the industry" means. When people talk about disruption, they think about clichés like the "Uber moment". I personally don't think there will be such a moment in the industry because it's a low-engagement product in a market that is not winner-takes-all. Policies are purchased annually which means that acquisition is slower and harder than, say, an online book retailer.
So when we thought about this, we thought that "AWS moments" might be more relevant – the emergence of critical service providers that dominate particular parts of the value chain and start being able to extract outsized rents for that service. You don't know these companies exist unless you look hard for them – or if you're the CFO paying them every month. We wrote a blog post about this.
What needs to change? Should it change?
It depends on what you're trying to enable. For distribution insurtechs I think the most significant barrier has been lifted, which was their access to underwriting capacity. I think the driver for this was a business that we helped design and launch, Digital Partners at Munich Re. This was the first team that was prepared to put capacity into high potential but unproven digital distribution models.
Several other incumbents have now followed Munich Re into this space – not least because Digital Partners has been hugely successful. They reported in January that they have hit £100m GWP less than 3 years after launch.
For supplier insurtechs the situation is different. Many are still struggling with the slow sales cycle of incumbents. Most insurers are still not good at identifying where they want to work with insurtech partners, understanding how to engage with them, and scaling up early successes.
That said, it's a hugely challenging job for any insurer. Many insurtechs have a wonderfully clever proposition, but one that does not scratch a major itch for any insurer. It's a shame but completely right that these insurtechs are not high on any incumbent's agenda.
Is the change going to come from the larger companies, who have the capacity for innovation? Or the insurtechs, who have the ideas?
I think it depends on the type of change. I think the larger companies will drive some change, but this will be incremental and around the current insurance paradigm. Digital Partners is a good example: you can point to value chain compression, digital distribution enablement and things like that, but fundamentally it's still insurance as we know it.
Swiss Re's iptiQ business falls into the same category, and you could make similar arguments about insurers like AXA and SCOR who are pushing innovations like parametric triggers or ILS.
But I think the radical ideas will come from outside the industry because I don't think that big companies have either the capability or shareholder mandate to go too far off paste.
After all, most people invest in insurers because they pay a nice steady dividend. Companies that could crate that radical change include Laka, who are pushing a digital mutual concept and Hokodo who are transforming the way that SMEs can access niche forms of business insurance.
And, by the way, when it comes to Supplier insurtechs the answer has to be "both". That's because you need two to tango – an insurtech like Cytora or Floodflash with an idea and an insurer with the appetite to make it work.