'It's never nice to think that someone may dislike you because of your skin colour,' says chief executive
In the summer of 1981, inner cities across Britain were plunged into turmoil as a wave of riots and clashes with law enforcement swept across the nation.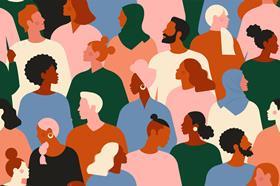 The first spark ignited on a Saturday evening in April 1981, as petrol bombs were launched into the air – marking the beginning of the Brixton Riots.
However, simmering racial tensions had been brewing beneath the surface for years before the riots began and race relations in Britain remained strained afterwards.
As far back as 1972, the headline on the front page of the newspaper of the Black Unity and Freedom Party, a British Black power group, read: 'Liverpool: Fascists, skinheads, and police unite against black people.'"
David Flint, chief executive of London-based MGA Blue Mountain Capacity, grew up in Tottenham, North London, during a time when he was frequently "chased by teddy boys and skinheads" because of his Caribbean heritage.
Therefore, walking into Lloyd's of London as the market's first black broker was a "doddle", because the racism he encountered outside of work "did not compare".
Flint was recently recognised as the first black broker at Lloyd's with a portrait, completed by artist Franklyn Rodgers.
As part of a series of six portraits celebrating role models for diversity and inclusion (D&I) at Lloyd's, Flint's portrait has been hung in the market's Old Library.
It was commissioned for the ninth anniversary of the Dive In Festival this year (2023), the insurance industry's market-wide festival for promoting D&I.
Speaking exclusively to Insurance Times about the honour and his career leading up to the moment, Flint says that he hopes his portrait provides younger generations with "a point of reference, someone they can relate to – an individual from the black community in the market".
He adds: "This representation allows them to envision themselves in a similar position, as they witness someone who has already achieved it."
Career to date
Speaking about his entry into insurance sector, Flint reveals that he stumbled into the industry after six months at a shipping company, which led him to attend an interview with Howden Shipping.
Despite the absence of available shipping-related positions, Howden Shipping extended an offer to Flint to join its insurance division Alexander Howden, marking his introduction to the world of insurance in 1977.
He became a Lloyd's broker in 1978 and, by the time he left Alexander Howden in 1984, he was a senior broker in property and casualty.
His journey continued with a move to Lowndes Lambert, where he assumed the role of assistant director of property and casualty, before he earned recognition as a Name at Lloyd's in 1988.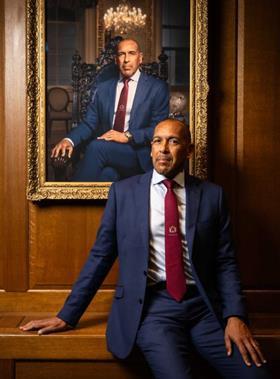 Flint explains: "Lloyd's was not a difficult environment to live in."
He assumes that when he first walked into the underwriting room, people must have thought that he did not look like them.
Indeed, after leaving Lloyd's, he discovered that some complaints had been made by Lloyd's underwriters to his company.
He says: "I assumed it was about me – and why would they complain, other than I am black? Through my eyes, I didn't see colour in the [underwriting] room, although everyone else did.
"It's never nice to think that someone may dislike you because of your skin colour."
Despite these experiences, Flint says he did not realise the extent of support he received during his time at Lloyd's.
"The senior management and the directors of the company decided that they were going to give me the job," he says.
"And although they received complaints, they did not back down. Clearly, I had allies, sponsors and people supporting me.
"There was an element of 'we are not going to let this guy be treated this way because of his colour.'"
Good business
Flint says he steadfastly refused to allow external racial and political tensions to impede his career progression and firmly upholds his belief that "if you were good at what you did, people wanted to trade with you".
This perspective stems from several influences in his life, including his parents' background, the influence of West Indian culture, the teachings of his church and the resilience cultivated from his underprivileged upbringing.
He explains: "People who came from the West Indies saw England as a mother country. They arrived here with big smiles, thinking 'this is going to be wonderful.'
"However, they soon realised it wasn't what they expected from what they saw on TV and it became a rude awakening. Despite their qualifications, many of them found themselves in menial jobs."
As a result, Flint's parents instilled an 'always try harder, do better and do the right thing' attitude in him, which he credits for his success in both his personal life and his profession.
He explains that this attitude has led to success – especially at Lloyd's.
"At Lloyd's, they have the utmost good faith," he explains.
"In other words, when you provide someone with information, they are more likely to believe what you're saying because you are in a trusted environment."
However, he says this trust is earned through "not cutting corners or looking for shortcuts, because it was the broker's word against the underwriter if something went wrong".
"You had to be good at your job," he adds.
Flint recalls a time when market participants had to handle insurance deals without the aid of digital technology or photocopiers.
He explains that trust was an important component of his value system because "if you were good at what you did, people wanted to trade with you," since transactions were often conducted with minimal documentation and relied heavily on mutual trust between parties.
"If you were good – you had good business. The only way you failed was by proving to people that you were not trustworthy," he adds.
Continued progress
As Britain made an effort to transform into a more inclusive society in the 1980s and beyond in the wake of racial reckonings, Flint believes Lloyd's has also "taken steps in the right direction".
One of these steps has been the symbolic gesture of highlighting his contribution to the market with the hanging of his portrait,
However, Flint also commends Lloyd's having committing to a "one in three" hiring ambition in 2021, meaning that one third of hires across the market should come from ethnic minority backgrounds.
He concludes: "Lloyd's don't have the ability to turn to other companies and say 'you have to do what we said'.
"However, it has stated its expectation."

My journey in insurance has led me to proudly don the patches of the London Market and SME brokers.

Beyond the world of insurance, I've ventured into creative pursuits that promote inclusivity and representation.

My written work has found a home in publications such as Orange Magazine, Peahce Project, and others.
View full Profile