Three industry leaders discuss attracting and retaining talent in an increasingly digitised world
Technology is changing the global economy and, as insurance firms strive to meet these demands, one key goal has been to employ more digital specialists.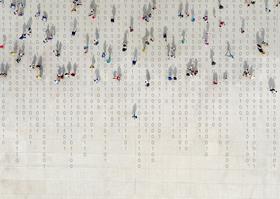 A disparity in the application of diversity and inclusion (D&I) hiring practices in this area has been hampering these efforts, however.
KPMG insurance partner Huw Evans explained: "We already have a problem in the industry – although we recruit more women than men into the sector at graduate level, we lose the majority of them by the time we get to c-suite level – and we have a particular problem with women not returning to the sector after they have children.
"We have an even bigger problem if the cohorts and the skill set that we are recruiting from increasingly have their own gender imbalance, which many of these areas do because of this country's problems with stem [science, technology, engineering and mathematics] and with women doing stem subjects at university and A-Levels and so on."
Evans was speaking as part of Insurance DataLabs' recent webinar entitled Top 50 Insurers: Underwriting under the microscope, hosted on 17 October 2023 in partnership with Insurance Times.
He was joined by Axa Retail interim chief executive Anna Fleming and Insurance DataLab cofounder Matt Scott. The session, which took a look at the results of the Insurance Times Top 50 Insurers 2023 report, was chaired by Insurance Times' acting editor Yiannis Kotoulas.
Evans further highlighted that although the "pipeline is slowly improving" because of efforts such as the UK Parliament's D&I inquiry into stem, launched on 22 November 2021, a "significant challenge" remained and "that's something, as a sector, we need to face into, recognise and call out if we want to try and proactively do something about it."
On its website, a UK Parliament statement explained that there was "evidence to suggest that women, certain ethnic minorities, people with disabilities and those from disadvantaged socioeconomic backgrounds are underrepresented in education, training and employment related to stem".
'Supercharge' toolkit
Fleming echoed Evans' sentiments and said that D&I efforts were a "gamechanger" if implemented correctly, although said she had noticed the insurance sector's focus on social mobility had "dropped off a cliff" compared to more "established lenses" such as gender and ethnicity.
Fleming explained that she came from a working-class background and was the first person in her family to go to university, but the "opportunities" she had had access to were "closing," which she said was "really worrying".
Evans added that the insurance industry was traditionally "a place that bright 16-year-olds could come who didn't want to continue in school.
"A lot of the Lloyds market, in particular – its historic pedigree – was built upon those really bright, smart and numerate youngsters who joined the market at 16 and went on to be hugely successful and we have lost some of that."
However, considering the younger generation – or the "digital generation" – Fleming said that "we have to tackle attracting that kind of talent, because they're the ones that are going to be delivering the super services and super products of the future".
To address talent attraction and pipeline challenges, Evans said that KPMG was choosing to "recruit a lot of trainee auditors and consultants" through the route of apprenticeships, which was making a "significant difference" to the firm's social mobility metrics.
Fleming added that Axa, meanwhile, was "widening the talent base" by tapping into the likes of internships and graduate schemes.
To "sell insurance as a more appealing career choice", Scott noted that new technologies can get rid of the "boring, mundane, more manual elements of work" – leaving space for people to complete tasks that "really add value to the process, add value to the customer experience and add value to the business as well".
Scott added: "I see artifical intelligence (AI) and machine learning very much as an enabler for the existing workforce and new talent down the line as well, [but] it shouldn't be used to replace roles within an organisation or replace certain functions.
"It's more like a toolkit to supercharge staff so that they can perform their roles better.
"That helps increase job satisfaction and retention rates as people will be "more challenged in their roles and given more interesting problems to grapple with."
Considering insurance going forward, Evans said that a "successful firms" were those that were "equipping themselves better for the future" by utilising "multifunctional teams" to collapse the divides of where the insurance industry used to traditionally operate in "silos".
Fleming agreed that multidisciplinary teams were "the way forward".
"We need all of our best brains coming together – the claim specialists, the actuaries and the underwriters – to come together to really understand the data that we're getting and what then we need to do to respond to make us agile and profitable in this very challenging environment," she said.

Isobel, a reporter at Insurance Times for over 2.5 years, covers environmental, sustainability and governance (ESG) content.

She was selected for the Women in Journalism Senior Mentoring Scheme in 2019 and, in 2022, went on to win the Highly Commended Award in the Most Promising Newcomer category at the British Insurance Brokers' Association (BIBA) Journalist and Media Awards.

At BIBA's 2023 awards, she was shortlisted for the Best Investigative Journalism category.
View full Profile