The partnership hopes to help solve a key problem for B2B sellers
Trade credit insurer Allianz Trade has partnered with business to business (B2B) e-commerce trading platform Two to grow its buy now, pay later finance market for SMEs and their clients.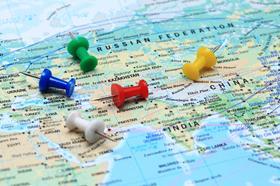 Combined, the pair hope to provide businesses with real-time data so that automated trade credit decisions can be made. The new partners also plan to expand this capacity to B2B sellers for the first time.
As part of the partnership, Allianz Trade will assess credit requests instantly through its API (Application Programming Interface), which will then utilise both companies' respective internal e-commerce and underwriting systems to assist Two in making financing decisions quickly.
François Burtin, Allianz Trade's global head of transformation, said: "E-commerce is booming in B2B and traditional payment methods don't allow online sellers and marketplaces to grasp the full potential.
"Allianz Trade has developed the assets to secure B2B online trading by providing real time credit decisions and insurance anywhere in the world, confirming our global leadership as the key enabler for this new business trend."
Solving a key problem
B2B sellers still lack the instant and easy payment experience available via business to consumer (B2C) channels.
For example, B2B sellers are still facing the challenge of using paper cheques and receipts, long transaction times for cross border payments, credit assessments on their buyers and tedious manual back-end processes.
Enrique Elias, Two's head of expansion, noted that "Allianz Trade is a scalable partner with a deep history in B2B".
For Elias, the new partnership represents "a unique opportunity to leverage decades of localised data with a global reach to solve B2B in the UK and beyond".
The partnership means that businesses can now benefit from the same level of service as B2C, such as paying after purchase and preserving cash for other uses, or benefiting from a seamless, integrated and instant online purchasing experience.
Stavros Tamvakakis, Two's co-founder, said: "Thanks to our partnership with Allianz Trade, merchants get conversion rates of up to 40% on B2B purchases, instant credit decisions, approval rates of over 90% and buyer credit limits of £100,000 plus. Business buyers get the payment terms they need plus a seamless purchasing experience."
Sarah Murrow, chief executive of Allianz Trade in UK and Ireland, added: "We have a role to play in helping the business community and our clients prepare for this new world of online trade and to be the enabler of the new b-commerce market.
"As the market leader of trade credit insurance, we are uniquely positioned to offer best in class digital trade credit solutions created for BNPL providers. We are excited about our partnership with an innovative player like Two."