High energy prices have become a 'top concern' for European exporters since the war began
Allianz Trade, formerly known as Euler Hermes, has warned of declining confidence and supply chain woes following the ongoing conflict between Russia and Ukraine.
It predicts that declining confidence and supply chain shocks will result in a loss of $480bn in exports to Russia and Eurozone countries in 2022.
The price of oil and gas has soared since the invasion of Ukraine by Russia, subsequently forcing energy regulator Ofgem to raise the price cap on bills in April – the new maximum default dual-fuel tariff is £1,971.
The latest research, published last week (13 April 2022) by Allianz Trade, revealed that the UK has a high dependency on imports and is one of the countries most concerned over soaring energy prices.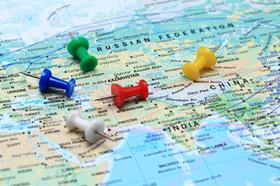 Two surveys of nearly 3,000 corporates across the United Kingdom, China, the United States, France, Italy and Germany were carried out – one before the invasion of Ukraine and one after.
Ano Kuhanathan, head of corporate research at Allianz Trade, said: "Since the invasion of Ukraine, high energy prices have become even more of a concern for European exporters.
"The share of European corporates that expect high energy prices to become more of a challenge has increased from 37% to 56%, with most worried in countries with the highest dependency on imports of gas: Italy (66% compared to 46% pre-war), the UK (62% compared to 47% pre-war) and Germany (52% against 34% pre-war).
"The fact that France has the lowest share of companies concerned by high energy prices (46% vs. 37% pre-war) likely reflects the implementation of the government's 'Resilience Plan' that takes into account the cost of the energy bill for most corporates."
Higher and stickier
The trade credit insurer has therefore cut its forecast for global Gross Domestic Product (GDP) growth to +3.3% in 2022 and +2.8% in 2023.
This is compared to +5.9% in 2021, a projection down by 0.8 and 0.4 percentage points respectively.
Almost two-thirds of Allianz Trade's downward revision is due to declining confidence and supply chain shocks, with the remainder based on higher commodity prices.
Allianz Trade believes that global inflation will prove to be "higher and stickier". For example, it had predicted an inflation rate of 6% in 2022, revised upwards by 1.9 percentage points due to higher energy prices and longer-than-expected supply chain disruptions, which it said will contribute to price pressures in equal measure.
Ana Boata, global head of economic research at Allianz Trade, said: "While current negotiations between Ukraine and Russia could provide a path towards a ceasefire, further escalation cannot be excluded, resulting in even harsher sanctions and countersanctions (including on energy supply)."
However, Allianz Trade also expects global trade growth to moderate by at least -2 percentage points in 2022 to 4% in volume terms, just below its long-term average.
Non-payment risk
Exporters' exposure to non-payment risk increased, with the survey showing that overall, non-payment issues had a moderate or significant impact on export activity over the past 12 months for nearly 60% of firms, with the highest shares in France (66%), China (65%) and the US (58%).
Before the invasion of Ukraine, cash flows were the top source of financing for 53% of exporters, followed by bank loans (49%) and credit from suppliers (36%).
The share of exporters planning to use cash was highest in the UK (64%), followed by the US (57%) and China (54%).
Cash flow financing is where a loan is made to a company backed by a firm's expected cash flows.
"Moreover, unsurprisingly, after a few years of somewhat protectionist US policies and a year into Brexit, almost half of US and UK firms want their governments to deliver new free trade agreements," Boata added.