Global public insurance firms saw a "revival" in revenue in 2021 that almost hit pre-pandemic levels
The global economy is "on tenterhooks" following geopolitical disruption in Ukraine and the potential threat of new variants of Covid-19, said Parth Vala, company profiles analyst at Global Data.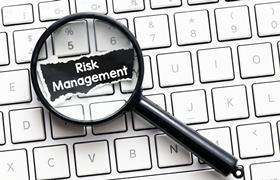 "The upcoming months are likely to pose further challenges to the insurance industry," she added, referring to the threat of rising inflation and the ongoing nature of the conflict between Russia and Ukraine.
Despite this disruption however, Global Data has highlighted that global public insurance firms saw a "revival" in revenue in 2021 that almost hit pre-pandemic levels as Covid-19 lockdown measures were relaxed.
Ranking the top 20 global insurance firms, the data and analytics firm's Companies Database noted that average annual revenue growth for 2021 stood at 9.5% and that total premiums earned grew by 8%.
Vala explained: "Premiums earned and extremely bullish global stock markets in 2021 helped insurance companies record substantial investment gains and achieve growth in investment incomes."
Premiums earned refers to the premium collected by an insurance company for the section of a policy that has expired.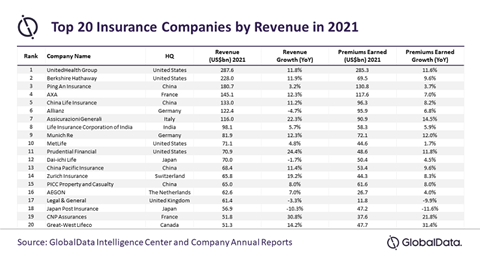 Winners and losers
Legal and General saw its premiums earned dip by 9.9% to $11.8bn (£9.92bn) in 2021, which has subsequently caused revenue to decline.
GlobalData revealed that revenue for Legal and General was $61.4bn (£51.62bn) in 2021. It noted that 80% of Legal and General's revenue comes from investment income, but revenue growth dropped to 8.3% year-on-year in 2021.
Meanwhile, Zurich's revenue growth was up by 19.2%, while earned premiums rose by 8.3% to $44.3bn (£33.24bn).
The insurers growth was also boosted by a 58.2% rise in net investment income due to 94.7% improvement in investment gains on unit-linked products.
Insurance Times has contacted Zurich and Legal and General for further comment.