The company will continue to develop its products for new drone applications
Drone broker Moonrock Drone Insurance is gearing up for international growth after securing £1m in funding from a consortium of industry investors.
These investors include Howden Group's Dual Asset co-chairmen Phillip Oldcorn and Andrew Hillier.
Russell Kilpatrick, chairman of Spring Partners, Paul Cousins, executive director of Chesterfield Group, Richard Bryant, underwriter at Prime Insurance and Jamil Elbahou, chief executive of Connect Underwriting, have also participated in the fundraise.
Simon Ritterband, Moonrock's founder and managing director, said the firm is excited about new opportunities in the drone market.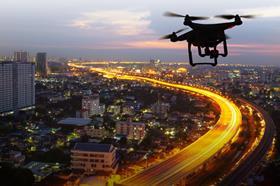 He continued: "Support of such seasoned professionals will enable us to begin worldwide distribution channels and with the global drone market expected to be worth over $40bn by 2025, this is a very appropriate time to be expanding."
The broker is continuing to develop insurance products for new drone applications, including unmanned Beyond Visual Line of Sight (BVLOS) operations assisting in delivering medical supplies for the NHS, drone swarm displays and drone deliveries.
Exponential growth
With the use of drones growing exponentially, Moonrock also provides comprehensive cover for drone use within industries such as surveying, film and TV, agriculture, delivery and construction.
In addition to its commercial policies, Moonrock will shortly be launching the UK's first dedicated consumer product into the market.
The number of UK drone hobbyists currently stands at more than 200,000 - the broker therefore sees this as the perfect time to launch into the market.
The Moonrock platform offers instant "click and buy" policies underwritten by Hiscox, with coverage that is tailored to drone users.
Moonrock's drone insurance policies cover areas that were previously deemed hard to obtain or a specialist cover, for example invasion of privacy, cyber attacks, worldwide cover and insurance for material damage to equipment and public liability.