The insurer's customer segment director says 'brokers play an important role in helping clients understand the risks'
Ecclesiastical has urged brokers to speak to their heritage clients following a spate of smash and grab raids at heritage properties across the UK.
According to the Stately Home Hotline Bulletin, published 28 May 2021, in the past two years there have been at least 10 smash and grab attacks at stately homes.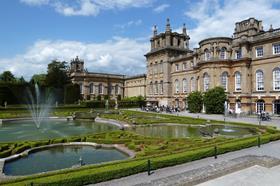 A smash and grab raid is carried out at speed, using extreme force to break through physical barriers to gain access to a property. In instances involving heritage properties, burglaries are often pre-planned to target high value items which are stolen to order.
For example, in May 2021, raiders plundered irreplaceable items from West Sussex-based Arundel Castle - this included historical artefacts that belonged to Mary, Queen of Scots.
Meanwhile, in September 2019, a solid gold toilet worth £4.8m was stolen from Oxford's Blenheim Palace. Later that month, an 18th century presentation gold box and a Faberge gold cigarette case were among items swiped in a raid at Sudeley Castle in the Cotswolds.
To support brokers in advising heritage clients, Ecclesiastical has published a full list of guidance around smash and grab attacks.
Faith Kitchen, customer segment director at Ecclesiastical Insurance, said: "Brokers play an important role in helping clients understand the risks they are facing and in ensuring they have the right cover in place.
"We hope this new guidance will help brokers speak to their heritage clients about the risks they face and how best to protect their properties from future smash and grab attacks."
Key advice
Sir Thomas Ingilby, editor of the Stately Homes Hotline - which correlates and disseminates security intelligence to over 1,500 UK heritage properties - said: "These raids are carried out clinically and with total disregard for the heritage property that is being attacked.
"By stealing items of national and international historical and cultural importance for criminal gain they are selfishly depriving the public the opportunity to see and admire these unique artefacts."
In Ecclesiastical's guide, Ingilby offers the following advice:
Try to locate portable, valuable items away from the building perimeter, as far from external doors and windows as possible, to deter thieves.
Where valuables are out on display to members of the public, house them in attack resistant display cabinets. Laminated or security glazing should be used and cabinet frames, locks and hinges should be designed to resist physical attacks.
If virtual tours of a property are included on websites, avoid including the location of electronic security measures, such as intruder alarms and CCTV systems, which could be used to inform a planned attack.
Review perimeter security arrangements. Restrict vehicle access to the site and locate any designated parking as far from the main property as possible.
In terms of electronic security, the insurer's guidance said this should be reviewed alongside physical security arrangements. It urged that further advice should be sought from property insurers and intruder alarm installers.
Kitchen added: "As the UK's leading insurer of grade I listed buildings, we're passionate about protecting Britain's heritage.
"During the past few years, we've seen an increase in smash and grab style attacks at heritage properties and this trend is likely to continue."