The penetration rate for EL cover has gradually fallen over the last four years, signposting the need for greater education around this type of insurance, says data and analytics business
The penetration rate of employers' liability (EL) insurance at UK SMEs has fallen to 62.5% for 2021, marking the lowest recorded EL penetration rate for this demographic in four years, according to annual research by data and analytics firm GlobalData.
The firm's 2021 UK SME Insurance Survey, which polled 2,001 respondents and was published in Q3 2021, found that of the respondents that did not have EL insurance, 23.6% believe the risk to staff is minimal, negating the need for EL cover, while 15.2% were not aware that EL insurance is a legal requirement.
GlobalData believes this leaves some UK SMEs "open to the risk of large payouts in the event of an injury to one of their employees and also leaves some SMEs breaking the law".
Meanwhile, nearly a fifth (19.4%) of respondents admitted that they previously bought EL cover, but had to scrap it to cut costs.
Ben Carey-Evans, insurance analyst at GlobalData, said: "This [penetration rate] is low for a product which is required by law.
"Follow-up questions identified that the key reasons as to why SMEs [that] need to have such insurance did not have it in place were that SMEs were willing to take the risk as a need to cut costs and being unaware it was legally required.
"The relatively low penetration rate for employers' liability is a long-term trend identified by GlobalData's annual UK SME Insurance Survey.
"Previous editions of the survey found that only 65.4% of SMEs held it in 2020, 65.5% in 2019 and 63.4% in 2018. While this is a long-term trend, it is something insurers should look to change."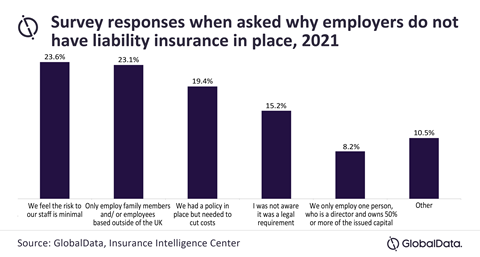 GlobalData added that a small number of SMEs are exempt from the legal requirements to buy EL as long as they have one employee who is a director that owns 50% or more of the capital, or if they only employ family members or staff outside the UK. Around 23.1% of respondents that hadn't purchased EL cover ticked this box.
Carey-Evans added: "The 2021 penetration rate of 62.5% is the lowest in the last four years.
"This indicates that some SMEs could have decided against this type of cover, as budgets have been squeezed by Covid-19, or maybe did not take up on renewals, which fell during periods of lockdown.
"Yet, Covid-19 could help insurers in the longer term. If more SMEs turn to brokers for advice to make sure that their business insurance is fit for purpose, or even simply conduct more research before purchasing insurance for the same reason, the proportion of SMEs [that] are unaware that employers' liability insurance is a legal requirement will come down."