Convex Group will have $1.8bn initial capital and will be focussed on complex risks
Former Catlin executives Stephen Catlin and Paul Brand have today launched their new international specialty insurer and reinsurer, Convex Group.
Convex launches with $1.8bn of initial committed capital and will draw down $1.6bn to commence business. A statement revealed it will have access to further capital as the business expands.
The company has received an A.M. Best rating of A- and regulatory approval to operate in London and Bermuda. It will focus on complex specialty risks across a diverse range of business lines.
News Catlin and Brand were looking to launch a new (re)insurer was previously reported in January, with a Lloyd's underwriter commenting that he feared it could lead to overcapacity in the marine market.
Catlin will serve as chairman and chief executive of Convex, with Brand as deputy chief executive.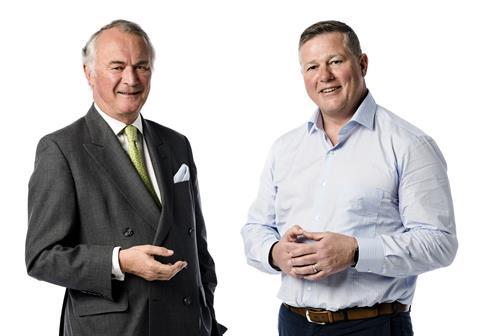 A host of other former Catlin and XL Catlin figures are also involved, including Benjamin Meuli as chief financial officer, Robina Malik as general counsel, Adrian Spieler as chief operating officer, Doug Howat as chief underwriting officer of insurance, Matt Paskin as chief underwriting officer of reinsurance and Mark van Zanden as head of portfolio optimisation.
Catlin said: "The launch of Convex distils vast industry experience and client focus to create the insurance company of the future.
"We begin unencumbered by legacy but rich with expertise and the strength of independence. There is evidence of pricing momentum in many classes and we are well equipped to prosper in a challenging market."
Investment
The statement read that Convex will adopt a conservative investment strategy, with a predominantly high-grade fixed income portfolio, and duration matched to the profile of the liabilities.
The invested capital comes from the Convex management team, Onex Partners V, Onex Corporation's (TSX: ONEX) large-cap private equity fund, PSP Investments and a consortium of co-investors.
"We are thrilled to have the support of Onex and our co-investors and believe they will be valuable partners to us as we build our business," Catlin added. "Paul and I have worked together since the early Catlin days and the team we have assembled all bring exceptional skills to the table.
"Together we have a once in a lifetime opportunity and I look forward to the journey that lies ahead."
Brand added: "Convex is designed for the evolving insurance industry, and combines years of experience, knowledge and history in this market.
"Stephen and I see a great opportunity; there is demand for an insurer to bring a refreshed and enhanced offering to market, one that puts fairness and honesty at the centre of its singularly client focused proposition.
"Convex will challenge the status quo to create value across the chain and provide a differentiated service in a personal way.
"We are very excited to be launching Convex today and look forward to working with our team to create an innovative partner that drives results for our clients."
Convex was advised by Evercore, JP Morgan and Slaughter and May.
Subscribers read more
Lloyd's reels from multiple blows