Due to the detrimental impact of flooding on socially vulnerable and ethnic minority communities, the insurance industry 'must support the roll out of Build Back Better'
Socially vulnerable communities and ethnic minorities are disproportionately suffering from the impacts of flooding because they are less able to cope and take longer to bounce back from the economic shock of flood risks - greater understanding around this trend "will be really important [as] to where investment is allocated in the future for flood defences", said Andy Bord, chief executive of Flood Re.
This finding was highlighted in research undertaken by Sayers and Partners on behalf of Flood Re, titled Flood disadvantage - socially vulnerable and ethnic minorities, published in December 2020.
Speaking at a virtual roundtable hosted by Flood Re on 13 July 2021, Bord continued: "In some cases, there were less defences and those communities were less well prepared, but what the research pointed to quite specifically was [that] they were less able to react, less able to respond and less able to economically rebuild, such that they could recover the economic loss that [had] been caused as a consequence of flooding."
According to the research analysis, black and other minority ethnic groups are more likely to have a lower income and live in rented accommodation, which are two factors that lead to significantly lower levels of flood insurance and higher levels of disadvantage.
Furthermore, the study showed that those living in social rented accommodation are more likely to be on lower incomes, so are also less likely to have flood insurance, subsequently increasing their Relative Economic Pain (REP).
The REP is defined as a ratio of uninsured loss to income.
But how can the insurance industry help to mitigate potential underinsurance for flood risks while better supporting the demographics identified within Flood Re's research?
Build back better
One pragmatic solution that aims to address this underinsurance issue, which was reiterated in Flood Re's Annual Report published on 13 July, is the scheme's 'Build Back Better' proposal.
The Build Back Better proposal was initially suggested in Flood Re's Quinquennial Review in 2019 - this suggested that homes prone to flooding are adapted when being repaired to protect them against the full impact of future flood damage.
In practical terms, Bord explained that this means making sure that insurers' repair networks are managed in such a way that the appropriate products and trade capabilities to install more resilient products are considered, as well as working with loss adjusters to ensure they have the capability to undertake flood surveys to determine the appropriate interventions that need to be put in place.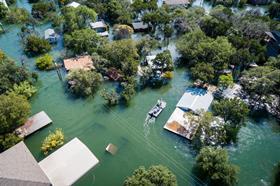 He continued: "Build back better means different things for different homes – in some cases, it can be as simple as installing air brick covers or non-return valves.
"In other cases that are prone to very repeated flooding, there might be more significant interventions that make sense in the form of flood doors, or different internal installations to the electrical supply or for the boiler, so it very much is a building specific assessment that will be done."
Flood Performance Certificates
Another method that can mitigate flood risk is Flood Performance Certificates (FPC), which to be successful need to be "normalised, standardised and just recognised as part of what you do as a consequence of buying or selling a home", as the information contained in the document is "really important to customers", said Bord.
Therefore, Flood Re is encouraging the UK government to mandate FPCs for the future.
Like an Energy Performance Certificate (EPC), the FPC would provide prospective buyers and renters with a clear overview of the flood risk posed to the property, including information on what measures have already been taken to protect the property from flooding, as well as explaining what actions need to be taken to further reduce that risk.
Bord added: "[The FPC] will really make a significant difference – [it] will make consumers more informed about buying and selling homes and will make the whole industry of resilience measures better able to address the need that exists and move us towards a more resilient UK housing stock."
'Transformational'
According to Flood Re's annual report, 350,000 properties have now benefited from the Flood Re scheme since its launch in 2016, with four out of five claims experiencing a price reduction of more than 50%.
Around 98% of homes at risk of flooding are also now able to access home insurance quotes from more than five of the insurance brands backed by the scheme - when Flood Re launched, only 9% of insurance buyers could achieve two or more quotes. Bord described this change as "transformational".
Flood Re's profit before tax for the last 12 months was £141m.
Bord added: "This year will thrust climate change and its consequences even further into the spotlight.
"There is an urgent need for preventative action and measures to adapt to a warmer planet.
"The insurance industry must support the roll out of 'Build Back Better' to ensure that homes prone to flooding are adapted to protect them against the full impact of future flood damage.
"But it doesn't stop there.
"The government needs to promote planning policies that do not make the problem worse.
"The public needs to be made more aware of the risks of climate change and flooding to bring about the behavioural changes we need to see."