The proposed measures aim to better protect and 'provide reassurance to communities and businesses'
The UK government will be investing £5.2bn over the next six years in measures to better protect thousands of homes and businesses from flooding and coastal erosion, according to its Flood and Coastal Erosion Investment Plan, published today (29 July 2021).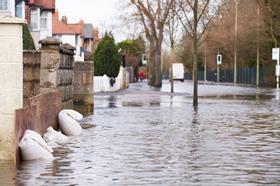 More than £860m will be spent between 2021 and 2022 to boost the design and construction of more than 1,000 schemes across England as part of the Environment Agency's (EA) annual capital programme.
In addition, the government plans to bring in tighter guidance for planning authorities.
Measures to tackle the risks from surface water flooding are also included in the plans.
Emma Howard Boyd, chair of the EA, said: "Having completed the government's previous six-year capital programme on time and on budget, [to] better [protect] more than 314,000 homes from flooding and coastal erosion [between 2015 to 2021], this year we began the government's new £5.2bn flood programme.
"These schemes should provide reassurance to communities and businesses, but no one should have a false sense of security – I strongly urge people to sign up for flood warnings and regularly check flood risk."
According to a recent review of decisions by the Department for Environment Food and Rural Affairs (Defra) and the Ministry of Housing, Communities and Local Government (MHCLG), 866 homes were granted planning permission contrary to EA advice in 2019 to 2020.
Communities' secretary Robert Jenrick MP added: "This new guidance will help local communities become more flood resilient by providing local authorities with the right tools to consider how flood risk can be prevented when planning for new homes."
Examples of schemes that will receive investment in the first year of the six-year programme:
Radcliffe and Redvales Flood Risk Management Scheme, Greater Manchester: £8m will be invested this year as part of a £40m scheme to protect over 800 homes and businesses.
Hebden Bridge Flood Alleviation Scheme, West Yorkshire: £4.4m will be invested in the development of this scheme in 2021 to provide greater protection to nearly 400 properties in a community with a long history of flooding.
Saltfleet to Gibraltar Point Beach Management, Lincolnshire: £8.5m will be invested this year, covering the annual beach nourishment scheme and repairs to the hard sea defences along 26 miles of the Lincolnshire coast.
Weardale Natural Flood Management: Around £700,000 will be invested in 2021 as part of a £2.1m project to reduce flood risk in Upper Weardale.
Andy Bord, chief executive of Flood Re, said: "There is still work to be done.
"Today's announcement puts Flood Re and insurers in a position to accelerate the delivery of our 'Build Back Better' proposals and benefit more households.
"Achieving flood resilience requires action from a wide set of stakeholders, so we also welcome the planned publication of the [property flood resilience] road map to provide direction and clarity."
The funding will be accompanied by a consultation in the autumn, where the government will consider how to strengthen the assessment of local circumstances and where to further allocate money during the six-year investment term.