Insured damage needs to remain as 'something that is exceptional rather than something that happens as a matter of course' for the insurance industry to continue providing cover
Reinsurance business Swiss Re has warned that the world is "increasingly at risk from extreme weather", following the flash floods in the UK earlier this month.
Simon Welton, market head of property and casualty for the UK and Ireland at Swiss Re, told Insurance Times: "Unexpected tornadoes and flash floods in the UK, Germany and China, coupled with raging wildfires in north west US and Canada, show a world increasingly at risk from extreme weather.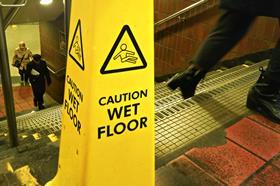 "The extreme events of the last few weeks and months have shown that the time to act is now."
He explained that as urban populations grow and our climate continues to change, the world is increasingly putting itself at more risk, facing greater damage and insurance losses from local weather events such as flooding, thunderstorms, hail and wildfires – known as "secondary perils".
Secondary perils refer to the resulting effects of primary perils, for example torrential rainfall or storm surges associated with tropical cyclones. Secondary perils can also happen on an independent basis, such as drought or wildfires.
Welton continued: "All of this highlights a need for government agencies, insurers and insurance associations to work more closely together to raise risk awareness, put in place more comprehensive claims monitoring and share that information with all stakeholders where legally permissible.
"Reinsurers, meanwhile, can support open source loss modelling frameworks for risk assessments closer to emerging local trends."
Welton believes that by spreading insurable risk across more shoulders, governments and the insurance industry can create more efficiencies and strengthen global resilience.
He sees reinsurers playing an orchestrating role in particular.
Greater action
Unlike hurricanes, earthquakes and other primary perils – which are geographically limited to certain areas – climate-related secondary perils can affect anyone and often lead to human tragedy in all parts of the world, Welton added.
"As an industry, we must be more active in calling for greater action and understanding, so that we can make weather-related secondary perils as insurable as peak perils, like hurricanes," he said.
"While advocating insurance as a key risk mitigation measure is critical, we must remember that the risk from natural disasters itself is not static, but constantly evolving."
Like Welton, Paula Jarzabkowski, professor of strategic management at the Business School (formerly Cass), has called for more action from public-private reinsurance schemes - also known as protection gap entities - to help ensure affordable insurance against flooding as occurrences continue to grow.
She pointed out that July saw extraordinary levels of rainfall in London, causing flash flooding in many areas of the capital.
This came in the immediate aftermath of devastating flooding in Western Germany, which claimed upwards of 100 lives and destroyed many homes and workplaces.
Jarzabkowski said increasing cases of flooding and the damage it causes is making the peril tougher to insure against.
"Flash flooding is very difficult to predict because it relates to changes in the built environment and how excess water affects drainage," she added.
"As weather patterns become worse, existing drainage and environmental planning will no longer provide adequate defences against increased rainfall and stronger storms.
"Areas that have not previously been prone to flooding are increasingly susceptible to severe cases, which could move them from being unexpected random events – which are insurable – to increasingly frequent, severe and expected events, which are much harder to cover."
Not just a matter of course
This change in weather patterns has put additional pressure on planned improvements to infrastructure.
Jarzabkowski has therefore called on disaster schemes to focus funds on development and closer integration between local and national governments, insurance providers and planning bodies to tighten regulations.
She continued: "Increased frequency and severity of floods must lead to [an] expansion of initiatives like Flood Re, to help ensure affordable insurance as more and more properties become vulnerable. Planning and measures must also include small businesses, [where] owners' livelihoods are equally at risk.
"The bigger picture is considering how protection gap entities can contribute to [the] increasing physical resilience of locations to protect people from flooding.
"It is important that enabling people to get flood insurance to pay for recovery isn't just disguising the initial problem - these sorts of properties may no longer be adequately resilient in the face of growing threats. We need to use claims data to pinpoint how to improve the built environment for flooding."
Jarzabkowski said that ultimately, protection gap entities should be using its funds to support flood-resilient infrastructure. However, she also believes that tighter integration between local and national governments' planning procedures and building regulations is needed to support more resilient architecture - in turn, this will enable properties to be insured at an affordable price.
"Insurance is one key way of being able to pay for the costs of damage, but to do this, we're going to need to keep damage as something that is exceptional rather than something that happens as a matter of course," she explained.