'Continuous real-time modelling' is essential 'to generate effective early warnings for flash floods'
Insurers could be bracing for claims after parts of the UK - including Croydon, Camden, Richmond, Notting Hill and Finchley - were hit by flash floods in July, but brokers could play a "crucial role".
At the weekend, torrential rain and thunderstorms saw a month's worth of rain fall in three hours in London, flooding tube stations and forcing drivers on motorways to abandon their cars. As many as eight tube stations were closed due to flooding.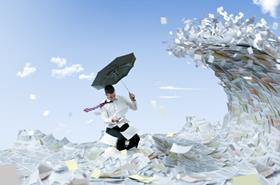 Parts of London received a month's worth of rain in a single day, with rain on 12 July reaching 47.8mm in a 24-hour period in Kew, according to BBC News.
Meanwhile parts of the London Underground system were also affected, with Sloane Square station seeing water pour down the stairs.
Insurtech Previsico's Avi Baruch, co-founder and chief operating officer, told Insurance Times: "Previsico works with both insurers, brokers and insureds to enable people and businesses to proactively mitigate flood impacts.
"Brokers play a crucial role in supporting their customers, not just with getting the right cover but also helping risk management where possible - particularly where high deductibles for flood damage exist.
"During the heatwaves over the last two weeks, a series of thunderstorms caused several surface water flood incidents across the UK. London in particular was badly hit where some parts received a month's worth of rain in one day causing serious flash flooding."
For example, he said that the London Fire Brigade alone had to respond to over 1,000 flood-related calls on the same day.
Early warning signs
However, Baruch said that "with new technologies, we are becoming better at predicting localised property level surface water impacts".
He continued: "The UK in particular is benefiting from some of the most advanced technologies for rainfall forecasting but these form just a small part of what is needed to produce actionable flood warnings. The response of local catchments to storms, each of which are unique requires continuous real-time modelling to generate effective early warnings for flash floods.
"The good news is that next generation live hydrodynamic flood models are able to take advantage of the best available rainfall nowcasts and forecasts to generate event specific footprints at the street level.
"Using this approach, floods that have previously caught people by surprise can be predicted with enough lead time to take mitigating action.
"Many members of the public who have never experienced floods were caught off guard by surface water floods, resulting in unnecessary damage and disruption."
Like Baruch, Kevin Pratt, insurance expert at Forbes Advisor agreed that brokers could play a "hugely important role" in helping clients with continuity planning and disaster recovery, ensuring they are able to minimise disruption and keep their businesses functioning.
Pratt continued: "Each business will require a tailored approach when it comes to drawing up contingency plans. Is there provision to use alternative premises? Are copies of important documents lodged with their bank or solicitors, and are computer files backed up to the cloud? Is a quantity of stock or equipment housed elsewhere, ready for emergencies?
"A big part of running a business is identifying and managing risk. And flooding is a big risk that should be taken into account in every organisation's business continuity planning."