The technology aims to help protect some of the UK's most prestigious properties and sites
Ecclesiastical Insurance has launched a new proposition called Ecclesiastical Smart Properties, aiming to protect some of the UK's most iconic properties.
The new risk management technology, provided by property performance management firm Shepherd, uses installed, battery operated sensors to learn what normal looks like for a particular property over a short time frame - this includes water leak sensors and a thermal surge sensor.
The sensors then send live, real-time data back to a hub, which analyses the feedback and can send an alert as an early warning of potential losses if an anomaly is detected - for example, around an escape of water or electrical fire risk.
The service is aimed at heritage, education and faith customers, and will be provided at no additional cost in certain circumstances.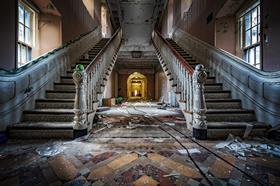 For an extra charge, customers will also have the option to expand the system to monitor additional types of risks, including humidity and legionella, or to have assistance improving energy consumption and reducing properties' carbon footprint.
Faith Kitchen, customer segment director at Ecclesiastical Insurance, said: "As the UK's leading insurer of Grade I listed buildings, we're passionate about protecting Britain's heritage.
"As part of our innovation programme, we're delighted to be partnering with Shepherd to deliver our cutting-edge technology proposition at heritage, education and faith properties.
"We know that incidents such as electrical fire or escape of water can be disastrous and incredibly disruptive for customers, which is why we're launching Ecclesiastical Smart Properties."
According to Ecclesiastical Insurance's 2020 property claims data, one in four of all its property claims last year were caused by escape of water.
Stephen Chadwick, chief executive at Shepherd, added: "Shepherd [is] proud to be Ecclesiastical's technology partner, helping protect some of the UK's most prestigious properties and sites.
"This is a significant step forward for the insurance world and its customers."
The new proposition draws on learnings from Ecclesiastical and Shepherd's technology pilot at English heritage property Kenwood House in December 2019.