Initial particpating insurers include NFU mutual, Aviva, Ageas, Lloyds Banking Group and LV= General Insurance
Joint UK insurance and government initiative Flood Re has today (14 April 2022) launched its Build Back Better scheme to help flood victims recoup losses via resilience and resistance measures.
The scheme allows people, via participating home insurers, to claim a reimbursement of up to £10,000 for flood resilience measures on top of the cost of repair work caused by flood damage.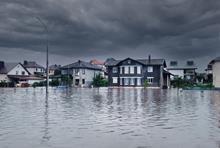 From April the initial participating insurers will begin offering customers access to this reimbursement cost. NFU Mutual, Aviva, Ageas, Lloyds Banking Group and LV= General Insurance (LV=GI) will be the first to join the scheme between 2022 and 2023.
Andy Bord, Flood Re's chief executive said: "In the UK, since 1998 we have seen six of the wettest years on record, with 5.2 million homes and businesses at risk of flooding. The trajectory will only continue to worsen without urgent, collective action – there is no time to waste. It is vital we encourage and incentivise adaptation among homeowners.
"The insurance industry has an opportunity to show its innovation and responsiveness to consumer need and to make real, tangible change. But to do so, we must throw the traditional principles of insurance to one side. This means thinking of future resilience and building back better after a flood, rather than simply returning a property to how it was before.
"It's hugely encouraging that five insurers have already partnered with us to offer Build Back Better provisions to customers and I am encouraged that, together with insurers soon to join, we will truly make a difference."
According to Flood Re, the introduction of the Build Back Better scheme is a vital step in responding to growing climate-related risks by offering a practical and innovative solution to build resilience for homeowners and insurers.
Combined effort
To become truly flood resilient, Flood Re believes that further action needs to be taken.
It supports steps such as the government investing a record £5.2bn in the flood and coastal defence programme in England. This will better protect a further 336,000 properties and reduce national flood risk by up to 11%, according to the government.
Meanwhile, the government has also committed to publishing a Property Flood Resilience (PFR) roadmap at the end of this year identifying the action both itself and industry need to take to accelerate take-up of property flood resilience measures and successfully underpin the nascent PFR market.
Floods minister Rebecca Pow said: "We must ensure that our homes are more resilient to extreme weather events. Build Back Better delivers on the government's commitment to better protect the country against flooding and prepare for it.
"Making adaptive measures more affordable will help people across the country. This builds on our record £5.2bn investment in flood defences between 2021 and 2027, which is better protecting hundreds of thousands of properties from flooding and coastal erosion."
Biggest UK risk
Aviva's chief executive, Amanda Blanc recently noted that flooding was the UK's biggest risk.
Owen Morris, managing director personal lines at Aviva, added: "Aviva has, for many years, offered flood resilience measures to our customers following a flood claim and through our Building Future Communities campaigning, we have called for more incentives, awareness and advice to improve take up, so we welcome this development.
"While flood defence schemes remain the best way to protect whole communities, we believe flood mitigation measures have a vital role to play in reducing the impact that floods can have on families, homes and livelihoods. Taking even simple steps, such as replacing traditional materials with waterproof equivalents, can make a difference and crucially, they can reduce the time it takes to dry out a property, helping customers to return to their homes much quicker."
Meanwhile, Jon Bird, property claims manager at participating insurer, NFU Mutual, said: "Four years ago NFU Mutual was one of the first insurers to adopt flood resilience repairs, so Build Back Better is something we wholeheartedly believe in. Building back a home with resilient measures that protect against future floods provides our customers with peace of mind that if they are flooded again, they can return to their normal lives as quickly as possible.
"As a mutual insurer whose customers are its members, being able to now re-coup some of the costs for these repairs from Flood Re is something that benefits both us and our members."
Martin Milliner, claims director at LV=GI, noted that "flooding is an extremely traumatic event" impacting a person's life physically and mentally.
"It's therefore crucial that we look into how homes can become more resilient to reduce the impact of future flooding and help customers return to their homes more quickly after a flood," Millner added.
Explaining this impact further, Robin Challand, claims director at Ageas Insurance, said: "We know from speaking to our customers just how devastating it can be when your home is flooded and, at a time when the cost of living is rising, it's never been more important to protect people from flooding.
"It makes total sense to us that if we can take steps to reduce the damage flooding would cause to a customer's home if it happened again, we should."
On a similar note, Craig Thornton, general insurance, protection and investments director at Lloyds Banking Group, said: "We regularly see first-hand how damaging a flooding event can be to our customers' homes and that's why we're committed to helping them to be prepared and protected in case of any extreme weather events.
"As an industry we need to work together to help our customers face into the challenges of a changing climate and we'll actively campaign for the government's planning policy and infrastructure investment to mandate for both flood resistance and resilience measures in all developments."