The 2022 Insurance Times MGA survey is now open for brokers to share their views on their service experience with MGAs over the last 12 months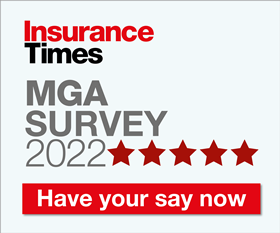 Insurance Times is pleased to announce the launch of its 2022 MGA survey today (14 June 2022), which will anonymously poll brokers on their service experiences with MGA partners.
In 2021, more than 1,000 brokers took part in Insurance Times' survey to rate their MGA partners' service over the last 12 months.
Acknowledging that the MGA market continues to grow in size, market share and specialisms, brokers last year gave their feedback on MGAs' products, their quality of support, technology and capacity, among other metrics.
MGAs use brokers' anonymous feedback, collated within an exclusive Insurance Times Five Star Rating Report, to transform their operations, meaning that your views can really influence the future of the MGA market.
Last year, Lorega, FloodFlash, MPR Underwriting, DOA Underwriting, Iprism Underwriting and Prestige Underwriting Services were all awarded five stars by brokers.
Meanwhile, 12 MGAs in 2021 were awarded four stars for their service, 13 MGAs were awarded three stars and seven MGAs were awarded only two stars.
To see in more detail how any of the 38 MGAs featured in last year's report performed and to view broker feedback, please click here.
The 2022 MGA survey is now open and will close at midnight on 14 August 2022.
All brokers that complete the survey will receive an exclusive summary report of the final findings and be entered into a prize draw to win £250-worth of John Lewis vouchers.
To take part in the survey, please click here. Thank you in advance for sharing your valuable perspectives!