Lloyd's Lab alumni have reflected fondly on Gaze's time running the insurtech accelerator programme
Lloyd's Lab alumni have reflected on "champion of innovation" Ed Gaze's time running the insurtech incubator programme following the announcement last week that he was stepping down after a four-year tenure as senior manager. Insurtech leaders have described Gaze as an "insurtech visionary" and "a key driving force of innovation".
Gaze has been at insurtech accelerator programme Lloyd's Lab since its inception in 2018 - he has seen more than 90 insurtechs go through the scheme.
Lloyd's Lab is currently running its eighth cohort, which has a focus on climate change and decarbonisation.
McKenzie Intelligence Service (MIS) has also been part of Lloyd's Lab since it began, working alongside Gaze, according to MIS chief executive Forbes McKenzie.
He told Insurance Times: "Gaze has been a constant driving force promoting insurtechs within the Lloyd's market and helping to bridge that gap between new entrants and managing agents, coverholders and brokers.
"He has always been a great ambassador for both Lloyd's and insurtechs. His advocacy for change and innovation will undoubtedly leave a legacy long after he's gone. We wish him all the very best in his future endeavours."
Real champion
Flood modelling firm Previsico featured in Lloyd's Lab's fourth cohort. The firm's chief executive, Jonathan Jackson, noted that Gaze had an "enthusiasm for developing an entrepreneurial culture".
He said: "Lloyd's Lab was transformational for Previsico as it opened up our value proposition for flood warnings with underwriting.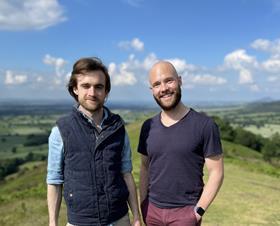 "For the first time, we were able to demonstrate how underwriters could better calculate flood risk, enabling them to consider risks [that were] previously uninsurable or where they were uncompetitive.
"Gaze's drive and enthusiasm for developing an entrepreneurial culture and bringing the best solutions to underwriters shaped how well the lab worked.
"After graduation, Gaze has continued to be a real champion for Previsico. Wherever Gaze lands up, we wish him well."
Adam Rimmer, co-founder and chief executive at FloodFlash, which was in the third cohort at Lloyd's Lab, added: "Gaze has been a fantastic champion for the insurance technology companies that have come through the lab.
"We'll miss his thoughtfulness, advocacy and his ping pong skills."
Insurtech visionary
Sid Mouncey, chief executive of parametric insurance firm Blink Parametric, met Gaze when his company formed part of the fifth cohort at Lloyd's Lab.
He told Insurance Times: "Gaze is an insurtech visionary and a champion of innovation and transformative change across the insurance industry.
"The entire Lloyd's Lab experience was invaluable for Blink Parametric. We collaborated with some of the world's best minds in insurance innovation and delivered a market ready product at the end of just 10 weeks.
"This achievement was testament to Gaze's stewardship of the programme, which developed a global reach, [had] a competitive selection process and [had] a turnkey capacity to accelerate the development and realisation phases by providing innovators not only with Lloyd's market access, but with rich, historical data, analysis, modelling and testing forums.
"Gaze has led the way in creating a productive environment that fosters [the] development of the insurance models and products of the future – what an achievement. Long live Lloyd's Lab."
Supercede, meanwhile, participated in Lloyd's Lab's sixth cohort. The company's co-founder and president Ben Rose said: "The Lloyd's Lab culture developed by Gaze helped pave the way for Supercede to hold very candid conversations with reinsurance buyers and operations teams at Lloyd's syndicates.
"These conversations led to new development partnerships and, ultimately, commercial agreements for cutting-edge technology for outwards reinsurance teams.
"The outcome of this experience means we're able to provide practitioners with the right tool kit to properly manage reinsurance deals and enable them to achieve better communication with their partners and clients."
Dan Ross, digital assets underwriter at Superscript, which was in cohort seven at Lloyd's Lab, added: "Gaze has been a key driving force of innovation - not only at Lloyd's Lab, but in the London insurance market more broadly.
"His support enabled Superscript to develop a machine learning model, which has transformed our underwriting insights.
"The success he's had leading 90 businesses with their innovation missions cannot be overstated and we're sure he will continue to have a great impact through his contributions with Tech Nation."
Also part of the seventh cohort was cryptocurrency and risk intelligence platform, Merkle Science, Natalie Hall director of marketing, said: "Gaze's contribution to Lloyds Lab was so much more than strong leadership.
"He is a great advocate for the insurance industry and is truly passionate about its advancement. As a participant in cohort seven of the Lloyds Lab we saw first-hand and benefited from his commitment. The Lloyds market and the broader industry is and will be enhanced by his efforts."