Automating financial controls could save insurers money and make room for more complex tasks, says EY
Most (62%) insurance chief financial officers are planning to automate 5% to 20% of their finance controls over the next year, according to a research report.
The report, EY Financial Services – EY Insurance CFO Survey: Minds made for Transforming Financial Services, also found that more than half (60%) of CFOs have strengthened their control environment as a response to the Covid-19 crisis.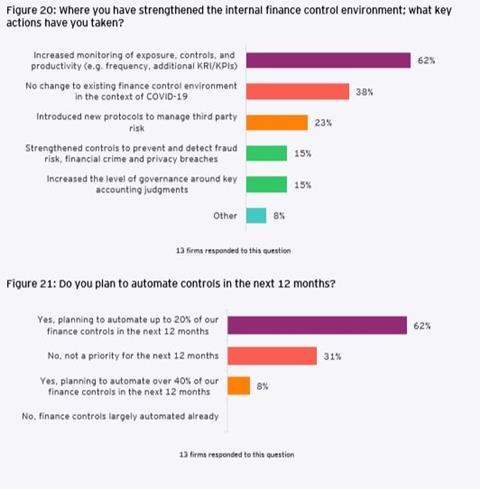 Yolaine Kermarrec, UK insurance partner at EY expects insurance CFOs to increase their focus on sustainable finance and climate change with regulators requiring financial services firms to integrate climate risk into their business by the end of 2021.
Greater automation
CFOs plan to automate workflow and internal controls for example reconciliation controls via process automation, analytics and process-mining.
One respondent said that over 40% of financial controls would be automated through a new financial system.
This EY said could save money and create room for more complex tasks.
Control automation also enables more frequent monitoring, interventions for control deficiencies to be applied earlier.
EY predicts an enhancement of cyber-data security and information security technology to address risks from home working.
Operational resilience
Although the report points out that this is a lower percentage than expected it demonstrates CFOs' confidence on the operational resilience of the finance function.
And to ensure business operates as normal, many insurers have established additional steps to manage internal financial controls, this includes:
Covid-19 financial control added to board meeting agendas, including regular management information and KPI [key performance indicators] reporting on controls
Additional scrutiny over, and documentation of, judgements
Additional oversight of outsourced service providers to ensure compliance and continued reliance on ISAE 3402 controls reports – this report deals with assurance engagements undertaken by an auditor
Redesign of internal audit procedures to test the effectiveness of remote ICFRs [internal controls over financial reporting]
Design and test operational risk assessment components
Increased frequency of certain controls
---
Not subscribed? Become a subscriber and access our premium content